This week on The Digital Story Photography Podcast: Tips for Seamless Panoramas, Behind the Scenes at the Havana Club Cafe set for my lynda.com movie, Canon and Nikon news. All of this and more on today's show with Derrick Story.
Weekly Update - Nikon D7200 boasts low-light AF improvements and increased buffer depth - With a 24.2MP APS-C CMOS sensor it offers a very slight resolution increase over its 24.1MP D7100 predecessor, and like that model it lacks an optical low-pass filter. Also, a next-generation 51-point AF module with increased low-light sensitivity, built-in Wi-Fi with NFC and an improved 100-shot buffer depth when shooting JPEGs at 6 fps (18 14-bit or 27 12-bit Raw files). Other notable features include 1080/60p video recording, improved battery life of 1100 shots per charge and a weather-sealed magnesium alloy body. The D7200 will be available in April as a kit with the 18-140mm f/3.5-5.6G ED VR for $1699.95, or body-only for $1199.95.  (Source: DP Review)
In other news... Review: The Canon 11-24mm f/4L is Pricey and Heavy but Unmatched Optically - The Canon EF 11-24mm f/4L USM officially holds the title of the widest rectilinear full-frame SLR lens with its 126º05' diagonal widest angle of view. And there's no mistaking the lens for anything less than an extreme wide-angle lens given its huge and gorgeous 108mm bulbous front element. Is it worth $3,000? This review helps answer. (Source: PetaPixel)
Story #1 - Tips for Seamless Panoramas - Yes, your iPhone works great for capturing panoramas. But if you want higher resolution and more tonal control, stitching together frames from your digital camera is the answer. Here a a few tips to ensure the best quality possible.
Use a tripod... properly.
It's easiest with the sun to your back.
Why manual exposure just works better.
Lock in your focus and keep it there.
Don't forget to overlap!
Mark first and last frame.
Shoot RAW.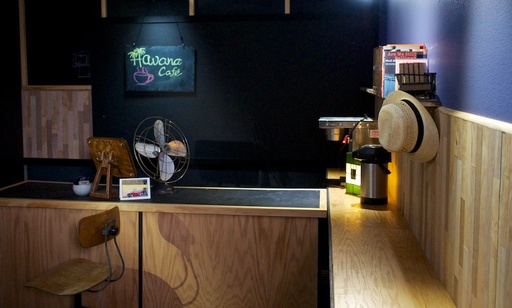 Story #2 - Behind the Scenes at the Havana Cafe Set - I'm at lynda.com this week recording the finishing bits for my "Photographer in Cuba" movie. They've designed a special set for our recording, and I thought it would be fun to chat with the producer, videographer, and lighting director about the preparations involved for this project. I hope you enjoy the conversation.
News from Red River Paper: Have you made your archive 6 prints yet for 2015? The best backup system in the world is high quality prints properly stored. I recommend that photographers do a print run of their best twice a year. Here's why.
Thanks to everyone who recently reviewed the TDS Podcast in iTunes!
BTW: If you're ordering through B&H or Amazon, please click on the respective ad tile under the Products header in the box half way down the 2nd column on thedigitalstory.com. That helps support the site.
Download the Show
In addition to subscribing in iTunes, you can also download the podcast file here (28 minutes). You can support this podcast by purchasing the TDS iPhone App for only $2.99 from the Apple App Store.
More Ways to Participate
Want to share photos and talk with other members in our virtual camera club? Check out our Flickr Public Group. And from those images, I choose the TDS Member Photo of the Day.
Podcast Sponsors
lynda.com - Learn lighting, portraiture, Photoshop skills, and more from expert-taught videos at lynda.com/thedigitalstory.
Red River Paper -- Keep up with the world of inkjet printing, and win free paper, by liking Red River Paper on Facebook.
SizzlPix! - High resolution output for your photography. You've never seen your imagery look so good. SizzlPix.com. SizzlPix! now is qualified for PayPal "Bill Me Later," No payments, No interest for up to 6 months, which means, have your SizzlPix! now, and pay nothing until May!
Want to Comment on this Post?
You can share your thoughts at the TDS Facebook page, where I'll post this story for discussion.