This is The Digital Story Podcast #584, May 16, 2017. Today's theme is "The Stupid Things I Do" I'm Derrick Story.
Opening Monologue
Photography isn't about getting some of the settings right; it's about nailing all of them. If there are 10 things you need for a great shot, and you accomplish only 9, then guess what? You're probably going to be disappointed. I was thinking about this after my latest blunder, and realized that there are a handful of mishaps that have plagued me repeatedly. And that's the theme for today's show.
The Stupid Things I Do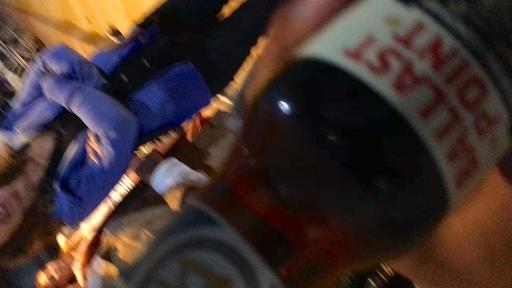 After I had just missed a cool shot because of one of my classic dumb moves, I asked my son, "Do you ever do stuff like this?" You see, I have this misguided belief that millennials never make tech mistakes. Instead, he replied, "I do that all the time."
This got me thinking. Maybe I'm not the only ten-thumbed photographer on the planet. So I thought I'd share my top five bonehead moves, then have you submit your favorites on our TDS Facebook page.
Stuck in Self-Timer Mode - I love using the self-timer for group shots and long exposures on the tripod. But I hate it when I forget to turn the drive mode back to normal single shot.

Over-swipe to Video - It's hard to see the iPhone screen in bright contrasty light. And in those situations, sometimes don't realize that I've swiped from photo mode to video.

High ISO Landscapes - Sure, if you want to have your landscapes look like something that NASA has sent back from Mars, leave your ISO at 6400. But if you don't like that lovely grainy, denatured look, you might want to ratchet it down a few notches.

Rangefinder Lens Cap Left On - Maybe I though use through-the-lens cameras only?

Backup Dead Battery - I always carry a backup battery. Whether it's charged or not is a different matter.
The Practical Benefits of High-Speed Sync (HSS)
Generally speaking, our cameras top out at 1/250th (or slower) for flash synchronization. This is fine for indoor and low light work. But if you need to freeze action at a higher shutter speed, or if you want a wide aperture in bright light outdoors, you'll probably need a faster shutter speed, such as 1/1000th or more.
By using HSS, you can raise the shutter speed and still get a proper flash exposure. Instead of firing the flash at the start of the shot, HSS pulses the flash throughout the whole exposure, trying to simulate the effects of a continuous light. Many camera systems can do this, including Canon and Nikon. But your range is limited because of the weaker output, and the flash unit can really heat up using this technique.
That said, you can also create some amazing portraits and action shots because you're able to combine flash and high shutter speed.
One of the very practical features of the Sekonic Speedmaster L-858D-U handheld light meter is that it can measure flash output from one or more units when using HSS technique. This enables you to balance the flash output with the ambient light to create the exact look that you're after. This is particularly important for shoots when you don't have time for a lot of experimentation. You need to set your camera and flashes right the first time, and hope you capture the shot you're after.
"The L-858D-U is the first meter of its kind that can measure the stroboscopic pulses fired from strobes when they are used for Hi-Speed Sync. Finally, photographers now have an accurate way of measuring their lights when they want to overpower the sun or achieve a very shallow depth of field through using HSS."
If you want to learn more about the Sekonic Speedmaster L-858D-U handheld light meter, visit the link in these show notes.
Federal Jury Awards $900K to Plant Retailer in Photo Theft Lawsuit
Petapixel reports: "An Oregon-based plant retailer was just awarded almost one million dollars in actual damages by a federal jury in one of the biggest photography copyright wins of the year so far. Despite the strange circumstances of this case, it's being called, "a huge win for artists, photographer, and creators."
According to PDN, the case revolves around the unauthorized use of 24 copyrighted images captured by Under a Foot Plant Co. president Frances White for use in marketing a product they came up with called Stepables--basically, plans that can be walked on.
White and co. were able to show, in court, that competing company Maryland-based Exterior Design used 24 of White's images in marketing materials ranging from Web pages, to posters, to brochures for their own Treadwell Plants, infringing on White's copyright a total of 133 times from 2011 until the suit was filed in 2014.
Despite several cease and desist requests sent between 2011 and 2014, Exterior Design continued using the photographs, leaving White no choice but to sue for unauthorized use of the photos, unfair competition, and unjust enrichment. Exterior Design denied all claims, but a federal Jury in Maryland ultimately sided with Under a Foot, awarding the company either $900,000 in actual damages or $300,000 in statutory damages. It's fair to say the plaintiff will probably pick the former.
"These photographs were the result of countless hours of time, attention, planning and preparation," White said in a statement. "This was a huge win for artists, photographers, and creators."
Updates and Such
Big thanks to all of our Patreon members! I was able to pay for the podcast server and the backup system from last month's pledges. Your contributions are making a positive impact.
Registration invitations have gone out to Reserve List members for the Autumn in Wine Country Photography Workshop. If you are on the Reserve List, but didn't get your invite, please contact me. You can learn more about the workshops by visiting the TDS Workshops Page.
B&H and Amazon tiles on www.thedigitalstory. If you click on them first, you're helping to support this podcast. And speaking of supporting this show, and big thanks to our Patreon Inner Circle members.
And finally, be sure to visit our friends at Red River Paper for all of your inkjet supply needs.
See you next week!
More Ways to Participate
Want to share photos and talk with other members in our virtual camera club? Check out our Flickr Public Group. And from those images, I choose the TDS Member Photo of the Day.
Podcast Sponsors
Sekonic Light Meters - Learn more about the amazing Sekonic Speedmaster L-858D-U handheld light meter by listening to next week's show and visiting the Sekonic web site.
Red River Paper - Keep up with the world of inkjet printing, and win free paper, by liking Red River Paper on Facebook.
The Nimbleosity Report
Do you want to keep up with the best content from The Digital Story and The Nimble Photographer? Sign up for The Nimbleosity Report, and receive highlights twice-a-month in a single page newsletter. Be a part of our community!
Want to Comment on this Post?
You can share your thoughts at the TDS Facebook page, where I'll post this story for discussion.