This is The Digital Story Podcast #677, March 5, 2019. Today's theme is "Spectre - An Amazing iPhone App I'm Derrick Story.
Opening Monologue
There are moments when Artificial Intelligence seems to defy the laws of physics. After testing the iOS app Spectre, I think capturing motion will forever be changed. This software may also drive the final coffin nail for tripods and virtually every other camera support that we once lugged around. Sound crazy you say? Tune in and find out that it's real, it's right now, and it's only $3.
Spectre - An Amazing iPhone App
I've spent a lot of time around the Santa Rosa Creek lately. The water is high and running fast. I can cruise a long stretch of the creek on bike thanks to Prince Memorial Greenway that runs along the shore.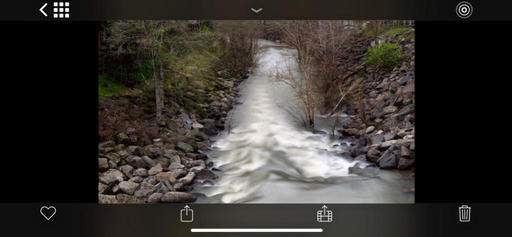 So far this year, I've captured some pretty good water images. But all of that took a turn for the better recently after I uploaded the Spectre photo app to my iPhone and went for another ride. What I came home with was far superior to anything I had shot so far this year.
Spectre is a $3 iPhone app that does three basic things:
Long exposures for soft water shots.
Streaming lights such as cars on a nighttime highway.
Making people disappear from crowded locations such as tourist sites.
Compatibility: Spectre works on iPhone 6 and newer and requires iOS 11 and up. Spectre's smart Automatic Scene Detection requires iOS 12. AI-based stabilization features are only available on devices with a Neural Engine (iPhone 8 and later). On iPhone 6 and iPhone 6 Plus, Spectre captures in lower resolution.
The handheld long exposures are quite good, and they are higher quality images that my previous favorite method of converting Live View shots to long exposure with Photos.
Essentially, these are Live View files. But the secret sauce is a slightly improved recipe. When viewing the Jpeg files in Photos, they do show the Live View badge, but they certainly don't play the same way as those from Apple. If you're using Photos for macOS, your Spectre images will appear in the Live Photos album under Media Types.
Here's what they say on their site: "Spectre's intelligent computational shutter takes hundreds of shots over the span of a few seconds, and saves them in an accompanying live photo. That means you can pick a different frame as your photo, apply live-photo effects, and even use the long exposure as a live-wallpaper!
Spectre is a packed with powerful technology from by the team that brought you Halide. From machine learning-based scene detection to computer vision aided image stabilization, Spectre is jammed full of impressive technologies to get the best possible image.
On the downside, I have seen occasional banding at the very top or bottom of some images. This isn't consistent, and when it has appeared, I've just cropped it out.
Overall, though, Spectre is very impressive. It's intuitive and has the ability to produce great pictures - without a tripod.
Olympus Says that the OM-D E-M5 Mark III is Coming
I'll read from an interview with Olympus at the CP+ trade show in Japan. The full interview can be read on Imaging-Resource.com.
Do You Have a Film Camera that Needs a Good Home?
Over the last year, I've received donations from TDS members who have film cameras that need a good home. What I do is inspect the items, repair and clean as I can, then list them in TheFilmCameraShop where I can find a good home for them. If you're interested in donating, please use the Contact Form on TheNimblePhotographer site. And thanks for you consideration!
TDS Workshops Update
Joshua Tree Workshop Update
We will have the Olympus OM-D E-M1X to work with at the event. Participants will be able to experience this latest technology wonder in the beautiful high desert.
Sonoma Coast Workshop Update
I've secured a beautiful home for us just south of Bodega Bay. This will serve as our headquarters during the event. There's plenty of room for our classroom and presentation work, plus beautiful areas for relaxing, and even sleeping accommodations for those who wish to stay there.
We've started registrations for Sonoma Coast Exploration, and it looks like we have two seats open. So I've updated the inventory on the reserve list page. And you can place your deposit if you want to join us.
Updates and Such
Inner Circle Members: I have a new goodie for you this week. Go over to the Patreon site now to watch an introduction to how the new library manager works in Luminar 3. Now that version 3.0.2 is out, I think Luminar 3 is worth a look. If you're curious, take a look at this benefit for Inner Circle Members. And if you want to join the Inner Circle, visit our Patreon site, or click on the tile that's on every page of The Digital Story.
B&H and Amazon tiles on www.thedigitalstory. If you click on them first, you're helping to support this podcast. And speaking of supporting this show, and big thanks to our Patreon Inner Circle members:
And finally, be sure to visit our friends at Red River Paper for all of your inkjet supply needs.
See you next week!
More Ways to Participate
Want to share photos and talk with other members in our virtual camera club? Check out our Flickr Public Group. And from those images, I choose the TDS Member Photo of the Day.
Podcast Sponsors
Red River Paper - Keep up with the world of inkjet printing, and win free paper, by liking Red River Paper on Facebook.
Portfoliobox - Your PortfolioBox site is the best way to show off your best images.
The Nimbleosity Report
Do you want to keep up with the best content from The Digital Story and The Nimble Photographer? Sign up for The Nimbleosity Report, and receive highlights twice-a-month in a single page newsletter. Be a part of our community!
Want to Comment on this Post?
You can share your thoughts at the TDS Facebook page, where I'll post this story for discussion.