This is The Digital Story Podcast #823, Dec. 28, 2021. Today's theme is "What Are You Going to Do in 2022?" I'm Derrick Story.
Opening Monologue
For essentially 2 years we've had the opportunity to retool, learn new things, and break away from old habits that may not have been as productive as we wanted. Now, as we stand on the precipice of 2022, it's time to put our "new normal" into action. We are going to take a closer look at the pending possibilities on today's TDS Photography Podcast. I hope you enjoy the show.
Digital Photography Podcast 823
Tune-In Via Your Favorite Podcast App!

---

Apple Podcasts -- Spotify Podcasts -- Stitcher

Podbean Podcasts -- Podbay FM -- Tune In
What Are You Going to Do in 2022?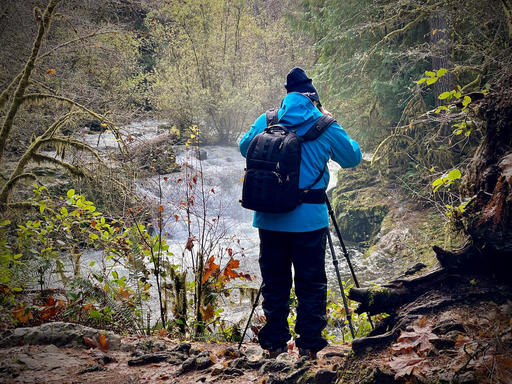 Here are the things that I'm discussing in this segment:
Set goals for 2022. Mine include bringing back physical workshops, adding new topics to the online workshops, resume publishing on TheNimblePhotographer.com, reorganizing the studio, and more.

Plan activities that are inline with your goals. For example, we will have a variety of online and physical workshops, set aside time to research and learn online, and spend time with others who have shared interests.

Add organization to the mix. It's one thing to say you're going to do something, it's far better to build a plan with milestone dates.

Build a budget. I like to create a separate account for projects and equipment that I want to fund.

Make 2022 a "springboard year." Take all the adjustments that you've made over the past two years, shape them into goals that will further your growth, and fuel them with organization and capital. The net result can be personal growth that you haven't experienced in years.
In terms of workshops, I've updated our TDS Workshops page on thenimblephotographer.com. You might want to take a look. (Inner Circle members will receive discounts for all 2022 activities.)
How Infrared Photography Can Create Stunning Sci-Fi Night Photos
You can read the entire article on PetaPixel.
Infrared photography is mostly used to create alternative and dreamy landscape pictures during bright days, giving nature specific hues from clear white to vivid yellow or red. But this technique has also a high potential in urban photography too, moreover at night.
Infrared photography requires specific gear such as a full spectrum camera (which sensor has been modified to bring back its initial sensitivity from ultraviolet to infrared light), an infrared filter, and a compatible lens. When it comes to shooting cityscape at night, a tripod is also required to deal with long exposure.
At this step, my advice is to choose an infrared filter with a low cut-off wavelength, like 550nm or 595nm. This way, the exposure time will not be too long (at night, infrared emission is only due to urban light and is far less important than IR sun emission) and you will observe a large range of colors in the different lights caught.
Personally, I use a full spectrum Canon RP, a Laowa 15mm f/4.5 shift, and a Kolari Vision 550nm filter in a drop-in mount. This association allows me to create large panoramas without any hotspot and with a reduced amount of flare.
This step is not specific to infrared photography, but if you are looking for futuristic pictures, you will need futuristic places. Modern financial hubs are full of buildings, headquarters, and offices made of glass and steel with impressive design. At night, they emit a lot of light and their look totally changes.
Do not hesitate to visit these places during the day: it will be easier for you to find interesting points of view and to test compositions that you will reproduce at night.
As infrared light will come from urban lights, road and subway networks are also great subjects to integrate into your compositions: at night, long exposures will create colored light lines in them.
Can the Cheapest MacBook Pro Keep Up With Professional Demands?
You can read the entire article on Fstoppers.
Apple's M1 Pro and M1 Max MacBook Pros are mightily impressive, but their prices can grow quite quickly as you add more features and capabilities, with the top model tipping the scales at over $6,000. On the other hand, the base model comes in at less than half that price. Can it keep up with the demands of professional photographers and filmmakers, though? This great video review puts it through the paces to find out.
Coming to you from Potato Jet, this excellent video review takes a look at how the base model of the new 16-inch MacBook Pro performs under the demands of a professional creative, and no doubt, it looks like even the M1 Pro model with 16 GB of unified memory is a remarkable step forward over previous generations, providing performance that easily handles heavy loads that would have bogged down even tricked-out older models. What impresses me all the more is the computer's long battery life, even during these demanding editing sessions, making it easy to work on large projects no matter where you are. It is also nice to see that the base models come with 512 GB SSDs, ensuring you have plenty of storage. Check out the video above for the full rundown on the new model.
Photos for macOS Monterey and iPhone Essential Training
You can view the course here on LinkedIn Learning.
With the free Photos for macOS software from Apple, you can manage, enhance, and share photos in a variety of ways. In this course, photographer, author, and educator Derrick Story takes you on a detailed exploration of Photos for macOS.
Derrick gives you a tour of the interface and the headline new features, then goes into detail on the ways you can use Live Text to transform your camera into your personal assistant. He shows you how to search for pictures by object type, copy images from messages to Photos, use Quick Notes with Photos, and automate common tasks with shortcuts.
Derrick walks you through the improved importing process and gives you some useful tips on organizing and editing your pictures directly in Photos. Plus, he shows you where to find more tips and techniques for working with Photos for macOS.
Virtual Camera Club News
Inner Circle Members: A big thanks to those who support our podcast and our efforts!
My Writing on Medium.com: I now have 51 published articles on Medium.com. And if you haven't visited the site, and enjoy good writing on a variety of topics, I suggest that you may want to take a look. You can just go to the home page and enter "Derrick Story" in the search field. And if you like what you read, then follow me!
The New Donation Kit for Carefree Shipping of Found Film Cameras - If you've discovered a film camera that's no longer being used, our new Donation Kit makes it easy to pack and ship. Just visit the Contact Form on thenimblephotographer.com, click the box next to Donating a Film Camera, and let me know what you have. In your note, be sure to include your shipping address.
Affiliate Links - The links to some products in this podcast contain an affiliate code that credits The Digital Story for any purchases made from B&H Photo and Amazon via that click-through. Depending on the purchase, we may receive some financial compensation.
Red River Paper - And finally, be sure to visit our friends at Red River Paper for all of your inkjet supply needs.
See you next week!
You can share your thoughts at the TDS Facebook page, where I'll post this story for discussion.