This is The Digital Story Podcast #839, April 19, 2022. Today's theme is "Camera Bag Odd Couple: GFX + MFT." I'm Derrick Story.
Opening Monologue
I'm planning a couple outdoor preflight camping trips in preparation for our upcoming Eastern Sierra Workshop, and I had to laugh when I looked down into my camera bag. What I saw was the photography version of the Odd Couple. How did I end up here? Stay tuned for the first story on today's TDS Podcast. I hope you enjoy the show.
Digital Photography Podcast 839
Tune-In Via Your Favorite Podcast App!

---

Apple Podcasts -- Spotify Podcasts -- Stitcher

Podbean Podcasts -- Podbay FM -- Tune In
Camera Bag Odd Couple: GFX + MFT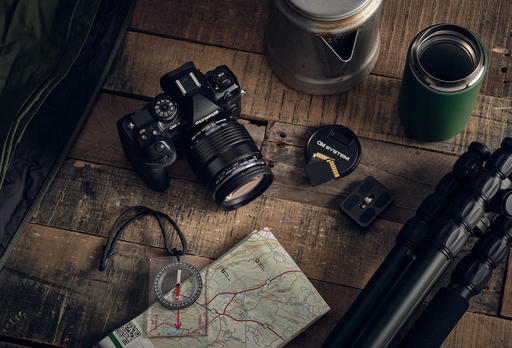 I've owned the Fujifilm GFX 100S for about a year and the OM System OM-1 for just over a week. The GFX is a handsome medium format mirrorless camera with an impressive sensor. The OM-1 is a svelte micro four thirds body that is a nimble little minx. And funny enough, they make a great tandem.
Fujifilm GFX 100S Medium Format Camera
To be honest, I didn't warm up to the GFX right away. I only had one lens for it, a hefty GF 80mm f/1.7 that was amazing for portraits, but not so good for lightly exploring the world.
Everything changed however, when I purchased the GF 50mm lens. With a full frame equivalent of 40mm (a focal length you know I like), weather resistant design, fantastic aperture ring with 1/3 click-stops, and very smooth focus for both AF and manual, I suddenly fell in love with the camera.
The call the 50mm a "pancake," but that's relative to medium format. And what it did was make the 100S feel like a very sophisticated full frame camera (about the same size), but oozing of Fuji magic and an amazing sensor.
I used the camera exclusively in the Humboldt Redwoods, and I just love many of the images I came home with. Honestly, the most beautiful greens I've every captured. After that trip, I decided that the GFX100S with the 50mm lens belongs in my travel camera bag.
My default settings are Aperture Priority (using that wonderful aperture ring on the lens), Velvia film simulation, auto white balance, and processing the RAW+Jpegs in Capture One Pro.
OM System OM-1 MFT
The OM System OM-1 is my camera for everything else. First, there are the lenses.
And then all of those wonderful features such as Live ND, Starry Sky, and fast burst rate. All packed into a compact package that perfect for a hike or a stroll to dinner.
When Do I Use What?
Here's when I use the Fuji, and then here's when I use the OM-1.
The 2022 TDS Workshops Update
We have great events lined up for this year, and there are a few more coming. Here's a recap of what we have so far:
May 2022 - Infrared Photography Workshop (online event) - Sold Out
August 2022 - Ultimate B&W Photography Workshop (online) - 3 Seats Available
Sept. 2022 - Eastern Sierra Photo Workshop (physical) - 3 Seats Available
Nov. 2022 - Oregon Coast Photography Workshop (physical) - 3 Seats Available
You can learn more about all of these events and register by visiting TheNimblePhotographer.com.
My Favorite Adventure Series - The 2008 Beijing Olympics
This idea came out of a group conversation that we had in the Humboldt Redwoods where the guys were interested in some of my big assignments from the past. We kiddingly nicknames these stories, "Back in the Day."
I decided to take them up on their suggestion and run semi-regular spots highlighting really cool photography adventures that I've been lucky enough to experience. Here's one today.
New Podcast Studio Online
I've really missed my old recording studio during this renovation of my photography studio. And to some degree, I bet you have too. Thank you for your audio patience while I've been in transition.
But now I have the new setup online, and we can get back to consistent audio quality, that is, except when I'm on the road. This is the first podcast with the new setup. Time to celebrate!
Virtual Camera Club News
Inner Circle Members: A big thanks to those who support our podcast and our efforts!
My Writing on Medium.com: I now have 51 published articles on Medium.com. And if you haven't visited the site, and enjoy good writing on a variety of topics, I suggest that you may want to take a look. You can just go to the home page and enter "Derrick Story" in the search field. And if you like what you read, then follow me!
The New Donation Kit for Carefree Shipping of Found Film Cameras - If you've discovered a film camera that's no longer being used, our new Donation Kit makes it easy to pack and ship. Just visit the Contact Form on thenimblephotographer.com, click the box next to Donating a Film Camera, and let me know what you have. In your note, be sure to include your shipping address.
Affiliate Links - The links to some products in this podcast contain an affiliate code that credits The Digital Story for any purchases made from B&H Photo and Amazon via that click-through. Depending on the purchase, we may receive some financial compensation.
Red River Paper - And finally, be sure to visit our friends at Red River Paper for all of your inkjet supply needs.
See you next week!
You can share your thoughts at the TDS Facebook page, where I'll post this story for discussion.