Raw+Jpeg might not be your default setting, but there are situations when you want to capture in both formats every time you click the shutter. One of my favorite Raw+Jpeg scenarios is when I want to use a compact printer sans computer, such as direct printing from the new HP Photosmart A626 Compact Photo Printer. You simply insert your camera's memory card into the printer, then choose the images you want to output on its LCD monitor. But this works only if you have Jpegs on the card. The printer, and other similar devices, can't read Raw files.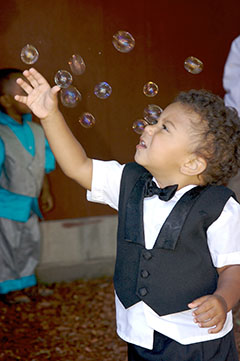 That doesn't meant that you should give up the advantages of Raw either. Later, when you're done printing snapshots, you may want to dig deeper into an image for large format printing and other uses. In this podcast, I discuss the times Raw+Jpeg make sense, and the times it doesn't.
Photo Caption: Do you capture moments like this in Raw, Jpeg, or both? Listen to the podcast to find out.
Monthly Photo Assignment
I also discuss this month's photo assignment, Duotone. This will be a fun gallery that lets us explore fun ways to tone B&W images. I'll be posting more about how to make duotones soon. So keep your eyes peeled. You can read more about how to submit on our Submissions page. Deadline for entry is Sept. 31.
Listen to the Podcast
Now that I've piqued your curiosity, it's time to listen to today's audio show titled, "Raw+Jpeg." You can download the podcast here (28 minutes). You can also subscribe to the podcast in iTunes
The Digital Story Podcasts are available for direct download from Apple iPhones. I've created a special mobile download page here. Just load the page in Safari, browse the podcast line-up, and click on the one you want to listen to.
Want to share photos and talk with other members in our virtual camera club? Check out our new Flickr Public Group. It's a blast!
Have you looked at the Park by the Numbers Camera Phone Project? If you have a camera phone, you've got to check this out.

Events! See the TDS Event Calendar for photography workshops, speaking engagements, and trade show appearances.
---
Technorati Tags: digital photography, podcast, The Digital Story
---
Sponsor Notes...
Add Magic to Your Slideshows -- FotoMagico presentations are so amazing that your audience will be asking how you did it.