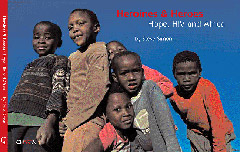 Steve Simon has been passionate about documenting life through photography since he began taking photographs at age 12 in his home city of Montreal. He authored a column on photography and for eight years his articles appeared in The Montreal Gazette, The Ottawa Citizen, The Toronto Star and The New York Times among others. He graduated from Concordia University in Montreal with a degree in Communications/Journalism.
While I was in San Francisco for some other work, I had a chance to meet Steve and learn about his new book, Heroines and Heroes. Our conversation was very interesting, so I asked him if I could pull out the microphone and record the dialogue. This is a real field interview, complete with street noise in the background and recording levels set just a bit too hot. But the information is terrific, and I wanted to share Steve's thoughts with you.
He covers his trips to Africa, the Heroines and Heroes project, traveling with photo gear, shooting technique, and a wealth of other tips. I think you'll enjoy what Steve has to say.
Listen to the Podcast
Now that I've piqued your curiosity, it's time to listen to today's audio show titled, "Steve Simon on Heroines and Heroes." You can download the podcast here (27 minutes).
Technorati Tags: digital photography, podcast, The Digital Story