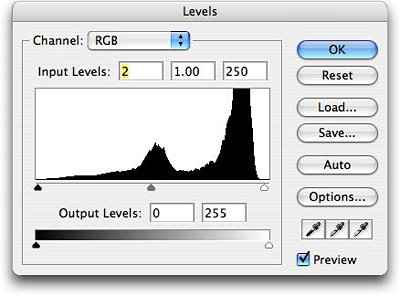 How do you build a basic image processing workflow with the tools you already have? It's quite easy and involves only a few steps. This workflow might not be as convenient as what you'd enjoy in a contained environment, such as with Aperture, Lightzone or Adobe's Lightroom, but you don't have to spend the dollars either.
This podcast covers the following steps:
Upload your images
Crop to improve composition
Adjust exposure using levels command (see illustration above for example of good levels settings)
Correct the white balance
Sharpen using Unsharp Mask
You don't have to spend more time managing your images on your computer than you did capturing them in the first place. I'll show you how to work more efficiently.
Listen to the Podcast
Now that I've piqued your curiosity, it's time to listen to today's audio show titled, "Image Editing Workflow." You can download the podcast here (32 minutes).
Technorati Tags: digital photography, technique, podcast, software