This week on The Digital Story Photography Podcast: Hanging out with the Lumix Luminaries, TDS Bodie Workshop Preview, Perfect Browse 9, Mastering WordPress - All of this and more on today's show with Derrick Story.
Weekly Update - Is Perfect Browse 9 the Answer to Our Photos Workflow? I've been testing onOne Perfect Browse 9, and it shows promise as a robust complement to just about any workflow, and hopefully for Apple's upcoming Photos app. Here's why. (Source: The Digital Story)
In other news... "Sigma announces pricing for 24mm Art and 150-600mm Contemporary lenses - $849 and $1,089 respectively. (Source: DP Review)
Story #1 - Hanging Out with Lumix Luminaries Joseph Linaschke and Giulio Sciorio at the TDS Studio talking about Micro Four Thirds, 4K video, lenses and more. Recorded in surround sound stereo, so you'll want to listed to this with your headphones for the full effect.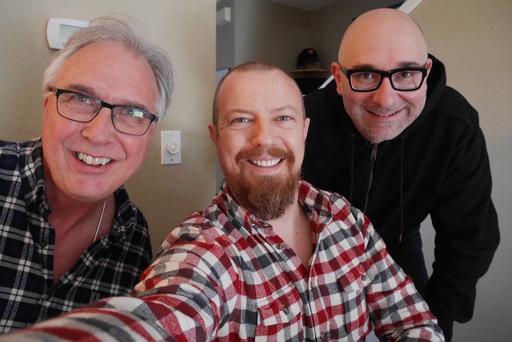 Derrick Story, Joseph Linaschke, and Giulio Sciorio at the TDS studio in Santa Rosa, CA. Photo by Joseph Linaschke.
Story #2 - From the Screening Room - WordPress Essential Training with Morten Rand-Hendriksen. Many photographers are using WordPress sites as the backend for their storefront. You can learn more about the ins and outs of WordPress by watching this excellent online tutorial.
You can watch Morten in action by visiting the TDS Screening Room at lynda.com. While you're there, you can start your 7 day free trial to watch all of Morten's movies, plus every other title in the library (including over 20 by yours truly).
Story #3 - TDS Photo Workshop Bodie and the Eastern Sierra Registration Forms Have Been Sent - We're currently booking for the June 11-13 photo workshop. If you were on the Reserve List, you should have received your registration form. If you'd like to participate, but are not on the reserve list, just go to the TDS Workshops Page and use the Send Me Info Form. I'll get you a registration form right away.
Snapshot - "From the Bad..." Just about everything that could have gone wrong last Tuesday, did. And I was impressed how everyone rose to the challenge. Based on the Nimble Photographer entry with the same title.
Virtual Camera Club News
Photo Assignment for February 2015 is "Good Bye". This is our last photo assignment. I discuss why in this segment.
News from SizzlPix: Our Presidents Day sale, the biggest we've ever run! 20 percent off on your SizzlPix!, any size AND 25 percent off on the entire shipment if you order more than 1! PLUS shipping is still free anywhere in the contiguous US. This is an exclusive offer for The Digital Story. Just write TDS 20 percent or TDS 25 percent in the comment space on the SizzlPix! order page.
Thanks to everyone who recently reviewed the TDS Podcast in iTunes!
BTW: If you're ordering through B&H or Amazon, please click on the respective ad tile under the Products header in the box half way down the 2nd column on thedigitalstory.com. That helps support the site.
Download the Show
In addition to subscribing in iTunes, you can also download the podcast file here (52 minutes). You can support this podcast by purchasing the TDS iPhone App for only $2.99 from the Apple App Store.
More Ways to Participate
Want to share photos and talk with other members in our virtual camera club? Check out our Flickr Public Group. And from those images, I choose the TDS Member Photo of the Day.
Podcast Sponsors
lynda.com - Learn lighting, portraiture, Photoshop skills, and more from expert-taught videos at lynda.com/thedigitalstory.
Red River Paper -- Keep up with the world of inkjet printing, and win free paper, by liking Red River Paper on Facebook.
SizzlPix! - High resolution output for your photography. You've never seen your imagery look so good. SizzlPix.com. SizzlPix! now is qualified for PayPal "Bill Me Later," No payments, No interest for up to 6 months, which means, have your SizzlPix! now, and pay nothing until May!
Want to Comment on this Post?
You can share your thoughts at the TDS Facebook page, where I'll post this story for discussion.