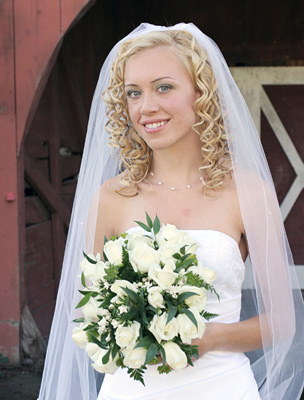 Preparation is the key to success for wedding photography. First, make sure you've gone over a shot list with the bride (and groom if he's interested) to ensure that you're on the same page, literally. You can use this shot list as a starting point. Let the bride add and subtract items as it suits her event. Help her organize the group shots so you can maintain flow throughout the day. For example, don't take all of the group shots right after the ceremony if possible. It slows down the pace too much.
Make sure your equipment is in order too. Bring a backup camera, flash, dedicated extension cord, plus lots of batteries, memory cards, and film (if film is part of the assignment). Test your setup before the actual shooting begins. This is especially important for flash photography.
If you have the time, consider attending the rehearsal the night before. This gives you the opportunity to go over the shot list one more time with the bride, scout out the location, watch the ceremony, and meet the family. Plus, customers always seem so impressed when I show up for the rehearsal. It starts the event out on a good foot.
Once the wedding is over, process you images in a timely manner. Couples like it when they can peek at their wedding pictures right after they get back from the honeymoon.
Listen to the Podcast
Now that I've piqued your curiosity, it's time to listen to today's audio show titled, "Wedding Photography Tips." You can download the podcast here (33 minutes).
Technorati Tags: digital photography, podcast, tips