This is The Digital Story Podcast #639, June 12, 2018. Today's theme is "The Art of Festival Photography." I'm Derrick Story.
Opening Monologue
Whether you're covering a music festival or a dazzling display of hot air balloons, it's hard not to be mesmerized by the main attraction. But if you really want to tell the story of the event, you have to get past that as quickly as possible. That process - of going from being in awe to taking awesome photos - is the topic of today's TDS photography podcast.
"The Art of Festival Photography"
Our workshop crew arrived on the scene at 5am Saturday morning. The Sonoma County Hot Air Balloon Classic was already a beehive of activity. There were vendors selling pancakes and hot chocolate, little kids in adorable hoodies, and couples arm-in-arm sharing a moment as dawn approached.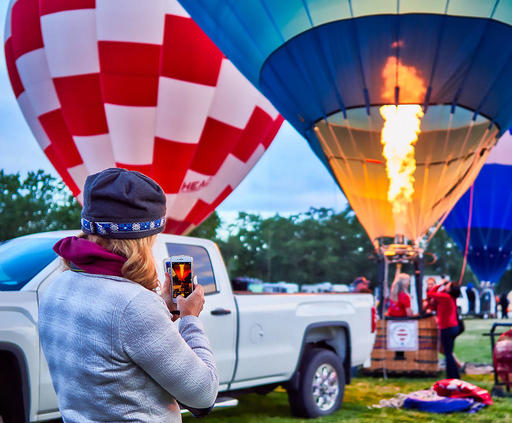 But all I could see at that moment were the flames lighting up the colorful balloons. And had I not shaken myself from that hypnotic state, I would have come back with just a couple postcard images. Fortunately, I rallied, and soon began to photograph the environment around me, as well as the main attraction. And here are the five steps that I kept in mind along the way.
Yes, Get the Postcard Shot - You need to have the image that everyone expects. So be sure to capture it, review it so that it is high quality, then check it off your mental list.

Turn Your Attention to the Crew - It takes many hands to pull off any type of event. And those behind the scenes images are excellent for storytelling. Viewers like to know how things happen.

What's Going on in the Audience? - Because they are often so engaged with the main event, audience members often won't even realize that you're taking their picture. And that engagement can be very interesting.

Get Tight on the Gear - Whether it's a Fender guitar, propane burner, or a shining row of wine glasses, the stuff of an event deserves its own images.

Move Your Feet, Bend Your Back, Stretch Your Arms - Don't fall in love with just one position or angle. Stay on the move, go high, low, and all around, and see what you can find.

Not only will you come home with the postcard shot to share on Facebook, you will have an entire photo essay that presents unlimited possibilities.

The Portfolio Project - Week 6 - Dan Horton-Szar Photographs

Dan Horton-Szar (pronounced SHAR) is our featured photographer this week with his Portfoliobox site, www.danhortonszar.com.

"Photography has been a much-loved hobby for most of my life, and I started to work on it more seriously in the last few years. A couple of things in particular helped me on the way - starting a 365 project on Blipfoto and joining a camera club. With the experience gained through the discipline of going out and making a daily photograph, and the advice and support I received from camera club members, I've gone on to join the Royal Photographic Society and gained my ARPS distinction in October 2014."

Dan has wonderful images of the Kent countryside and street photography as well. But my favorite page is "Raising Boys," a predominately B&W tribute to the exuberance of childhood. It's really good.

If you've signed up for a Portfoliobox Pro account, and have published at least one page, then send me the link to that site. Use the Contact Form on the Nimble Photographer and provide your name, the link, and the subject of the page or site you've published.

I'm also building a directory of user sites and publish it on TheDigitalStory. And all through the month of June, I will feature one of those sites on this podcast.

I love using Portfoliobox for these reasons:

My images look great, both on my computer and on my mobile devices.
It's easy to use. Without any instruction, I'm adding a high quality page in just minutes.
It's affordable. There's a free plan and a Pro version. The Pro version is only $82.80 per year or $8.90 per month USD, and that's before the 20 percent TDS discount.

Highlights with the Pro Plan

In addition to unlimited pages, you get a personalized domain name, web hosting, and up to 1,000 images.

Get Started Today

Just go to the TDS Landing Page to get started with your free account, or to receive the 20 percent discount on the Pro version. And if you want to see the page that I've begun, visit www.derrickstoryphotography.com.

I'm Taking the Canon PIXMA PRO-100 Rebate Challenge

This appears to be a deal too good to be true, so I'm testing it. I purchased a Canon PIXMA PRO-100 Wireless Professional Inkjet Photo Printer for $309 (including 50 sheets of 13"x19" Luster paper). The real deal is that this offer comes with a $250 rebate. So this professional printer with paper will only total $60. Seems too good to be true? I sent off the rebate form today. Will let you know what happens.

Rebate offer ends June 30th, 2018. In order to get the full discount for your order, you'll need to send back a $250 mail-in rebate and use the following code at checkout: BHOPTIC18.

Basic product highlights include:

4800 x 2400 dpi
Print 8 x 10" in 51 Seconds
Wi-Fi, Ethernet, AirPrint, PictBridge
Print Sizes up to 13 x 19"
8 Ink Cartridges
Front-facing USB port
True monochrome prints with Black, Gray, and Light Gray cartridges
Print photos, email, Web pages and documents from a MacBook, iPhone, iPad, or iPod Touch directly to your printer without installing a driver thanks to AirPrint technology

Reservation Forms have been sent for the Burney Falls and Lassen Volcanic National Park Workshop

We have our cabin reservations secured for Sept. 27-29, 2018 for the Burney Falls and Lassen Volcanic National Park Workshop. I sent out reservation forms this last weekend. So if you are on the reserve list, you should have received an invite.

Updates and Such

You can become a member of our Inner Circle by clicking on this link or by clicking on the Patreon tile that's on every page of The Digital Story.

B&H and Amazon tiles on www.thedigitalstory. If you click on them first, you're helping to support this podcast. And speaking of supporting this show, and big thanks to our Patreon Inner Circle members:

And finally, be sure to visit our friends at Red River Paper for all of your inkjet supply needs.

See you next week!

More Ways to Participate

Want to share photos and talk with other members in our virtual camera club? Check out our Flickr Public Group. And from those images, I choose the TDS Member Photo of the Day.

Podcast Sponsors

Red River Paper - Keep up with the world of inkjet printing, and win free paper, by liking Red River Paper on Facebook.

Portfoliobox - Create the site that your best images deserve by visiting Portfoliobox. And get a 20 percent discount by using our landing page!

The Nimbleosity Report

Do you want to keep up with the best content from The Digital Story and The Nimble Photographer? Sign up for The Nimbleosity Report, and receive highlights twice-a-month in a single page newsletter. Be a part of our community!

Want to Comment on this Post?

You can share your thoughts at the TDS Facebook page, where I'll post this story for discussion.