This is The Digital Story Podcast #520, Feb. 23, 2016. Today's theme is "The Reluctant Portrait Photographer." I'm Derrick Story.
Opening Monologue
As the world sees it, every photographer is a portrait photographer. You can tell people that you only shoot landscapes or pets, and they will nod their heads, then ask you to shoot their daughter's wedding. That's just the way it is. So in that spirit, I'm dedicating today's show to all of those reluctant portrait photographers out there. I will not only help you survive, but thrive the next time you're pressed into duty to photograph a friend, family member, or coworker.
The Reluctant Portrait Photographer
Portrait photography is about comfort, both for you and the subject. The path to that goal for you is having a clear idea on how you're going to photograph your subject, and for them to believe that you know what you're doing. Here's how to achieve that.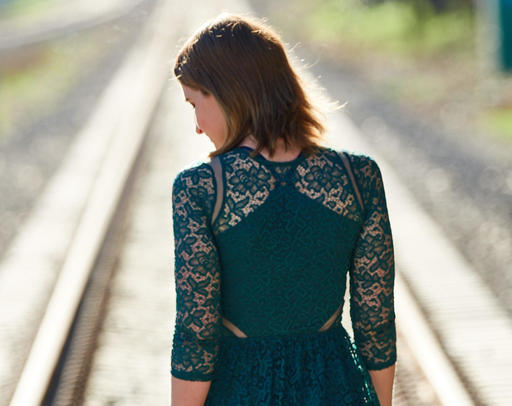 Keep it simple. I recommend outdoor shoots in the morning of late afternoon hours. This eliminates many of the headaches associated with indoor sessions.
Scout your location ahead of time. Have a clear idea of specific spots that have favorable light the time of day that you're there. Look for restrooms and other facilities that might come in handy. Know where to park, if there are any fees, and if you need a permit. It's like practicing law; you don't want any surprises.
Line up an assistant. It can be a friend of yours or the subject's. But you want an extra set of hands and eyes. The hands to hold reflectors, and the eyes to spot wardrobe malfunctions and stray hair. Plus it makes conversation easier.
Use fill light. I prefer reflectors, but have fill flash ready too. Practice your settings. Be comfortable with your lighting schemes.
Keep the conversation going. Don't clam up on the person. Nobody likes the silent treatment, especially photo subjects. It's lonely in front of the camera.
Show them a good picture as soon as possible. Once you have a shot that is flattering, show it to the subject on the back of the camera's LCD. They will immediately relax.
Don't be creepy. I think complements are great during a shoot, but know where the line is. Keep your praise confined to pretty eyes, shining hair, and attractive wardrobe. Do not head south of the neck for your comments.
Work quickly. If you're constantly fiddling with your camera and equipment, you'll convey a sense of incompetence. The shoot will go downhill from there.
Be professional. You know what that means. Do it.
In the News
Tamron releases stabilized 85mm F1.8 and 90mm F2.8 macro full-frame lenses - covered by DP Review
Third party lens-maker Tamron has released a pair of new full-frame, stabilized primes.
First is an 85mm F1.8 Di VC USD which has LD and XLD elements to reduce flare and ghosting, 9 circular aperture blades for 'attractive' bokeh, a fluorine coating to keep moisture and fingerprints off of the front element and 3.5 stops of shake reduction (tested to CIPA standards). It uses a ring-type ultrasonic motor that Tamron says will be precise and responsive. Pricing and availability have not been announced.
Lens number two is a 90mm F2.8 Di VC USD 1:1 Macro, which is an updated version of a lens of the same name from 2012. It too has LD and XLD lenses, a 9-blade aperture, fluorine coating, and USM motor. It can take life-size close-ups at a minimum distance of 13.9cm/5.5in and a 'quick-shift' feature lets the photographer take over focusing without having to press a button. The 90mm macro will begin shipping in March for $649.
Both lenses are weather-sealed and support Tamron's new TAP-in Console. They'll be available for Canon, Nikon and (eventually) Sony Alpha mounts.
Foam Can Coolers Make Excellent Lens Cases
If you like to travel lightly with just a shoulder bag, you can keep your spare lenses in closed-cell can coolers. They're light, about the right size, and offer excellent protection.
Member Quotes of the Week
Intelligent comments culled from The Digital Story Facebook page.
In regard to last week's Facebook Post: "Become the Master of Your Capture One Library" we had some terrific comments, and I want to share one with you now.
Michel wrote: "I feel really fortunate that I can follow along as you make the transition from Aperture to Capture One. I'm hoping this is the last transition I have to make. To that end do you know what percentage of business C1 represents for Phase One? I feel that if it's significant it's less likely to abandon it (as was the case for Apple/Aperture)."
Post your thoughts on our Facebook page. Believe me, I read them.
Report on the Olympus 300mm f/4.0 Telephoto
I spent a week with this lens and loved it. I go into detail about it during this segment of the show.
Updates and Such
Pt. Reyes Photography Workshop - We have two rooms open at the Pt. Reyes Photography Workshop, Aug. 19-21 2016. If you want to hang out with us at Straus Ranch House and explore some of the most beautiful coastline in the world, visit the TDS Workshops page and put yourself on the reserve list.
Out of Chicago Update - The debut of The Nimble Photographer Workshop sold out on Friday, June 24. Because there is a wait list, we've added a second workshop on Thursday June 23. I hope you can join me in Chicago this coming June. There's still time for Early Bird pricing.
And finally, be sure to visit our friends at Red River Paper for all of your inkjet supply needs.
See you next week!
More Ways to Participate
Want to share photos and talk with other members in our virtual camera club? Check out our Flickr Public Group. And from those images, I choose the TDS Member Photo of the Day.
Podcast Sponsors
Red River Paper - Keep up with the world of inkjet printing, and win free paper, by liking Red River Paper on Facebook.
ImageFramer Take your photos to the next level with ImageFramer. Visit www.apparentsoft.com today.
MacPaw Creators of CleanMyMac 3 and other great software for Apple computers. Visit www.macpaw.com today.
The Nimbleosity Report
Do you want to keep up with the best content from The Digital Story and The Nimble Photographer? Sign up for The Nimbleosity Report, and receive highlights twice-a-month in a single page newsletter. Be a part of our community!
Want to Comment on this Post?
You can share your thoughts at the TDS Facebook page, where I'll post this story for discussion.