This is The Digital Story Podcast #784, March 30, 2021. Today's theme is "The Bag I Use 90 Percent of the Time (and why)" I'm Derrick Story.
Opening Monologue
The real point of this show isn't the particular bag that I use, but the features that it has and how they are useful for the modern Nimble Photographer. My hope is that this discussion will help find a compact carrying solution that you'll reach for every time you step out the door. All of this and more on today's TDS Photography Podcast. I hope you enjoy the show.
Tune-In Via Your Favorite Podcast App!

---

Apple Podcasts -- Spotify Podcasts -- Stitcher

Podbean Podcasts -- Podbay FM -- Tune In
The Bag I Use 90 Percent of the Time (and why)
When Lowepro released the StreamLine 150 in 2013, it was intended for lightweight vacation travel with a compact camera. Its multi-device design offered dedicated storage for a 7" tablet, smartphone, compact camera, and personal items.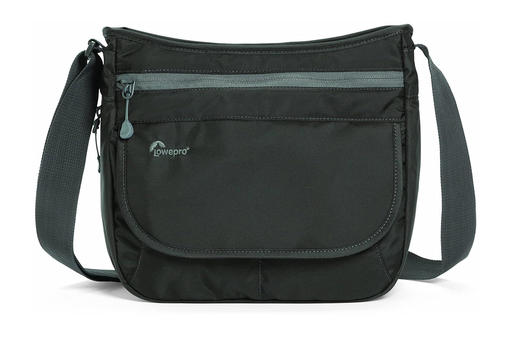 Even though DSLRs still roamed the earth then, there were a number of mirrorless photographers who appreciated the stylish practically of the StreamLine 150 and embraced it for their shrinking camera kits. One of things I like about it is the abundance of small lined pockets that I can use without additional protection cases. Let's take a closer look.
Basic Specs and Features
Measures 11"x10"x1" and weighs on 0.75 pounds.
2 padded and softly lined device front compartments protect against dust, scratches and abrasion.
2 additional front pockets for accessories.
Largish main pocket.
Two slim pockets for iPad mini or comparable tablet.
Weather-resistant materials and design.
Long shoulder strap.
The reason why it's been my go-to bag is because it's slim, stylish, and doesn't look like a camera bag. Some folks might say it looks like a man-purse :-)
I like the way it hugs my body when I'm biking or exploring urban environments. I can tuck it under my arm without attracting any attention. Yet, I have quick access to everything I need.
Inside, I typically carry an Olympus MFT body or the Fujifilm X100V. The iPhone 12 Pro Max fits perfectly in one of the front lined pockets. An extra pair of glasses fits in the other.
Lens cloths, memory cards, and other small items fit nicely in the accessory pockets. Generally, I keep my camera in the roomy main storage space. And there's still room for personal items.
The bags I carry have really become smaller over the years. And as such they are easier to protect from both the elements and prying eyes.
The Lowepro StreamLine 150 is hard to find these days. But I have a brand new one with its original packaging that I will raffle off to our Inner Circle Members. If you're part of our Inner Circle, or join us by April 5th, you can toss your hat in the ring to win the brand new Lowepro Streamline 150. The winner will be announced on next week's podcast.
A New Infrared Photography Online Workshop Begins May 2021
Back by popular demand!
If you want to learn the ins and outs of IR photography from the comfort of your home during this online event, then check out The Second Infrared Photography Workshop that begins in mid-May.
The workshop is already half sold-out via the pre-announcement to our Inner Circle Members (who also receive a discount for the event.) But we still have seats open. I wouldn't delay however if you want to attend.
You will learn how to:
Choose best IR filter to start with.
How to test your existing digital camera for infrared sensitivity.
Learn about the different types of IR conversions for digital cameras.
See how different IR filters produce wildly different results.
Learn how to fine-tune your images with software you already own.
Discover advanced techniques to take your images to the next level.
You can sign up now for $145. Inner Circle Members, visit out Patreon site for a discount coupon code.
Lens Hoods: Do You Actually Need Them?
You can read the entire article on F-Stoppers.
I was curious to hear Marc Newton, from The School of Photography, say that you absolutely must use lens hoods. In the artistic world I don't believe there are any musts really but this video breaks down the reasons he thinks lens hoods are essential pieces of equipment. He's absolute right in some of the things he says and this is a great introduction to beginner photographers, especially, who might be wondering whether to use lens hoods or not. Funnily enough, in some of the example images he provides, I prefer those without the use of a lens hood.
The New Donation Kit for Carefree Shipping of Found Film Cameras
We have more time around the house than ever. And you finally dove into that bedroom closet that's been begging for some organization.
If you found a film camera that you're no longer using, our new Donation Kit makes it easy to pack and ship. Just visit the Contact Form on thenimblephotographer.com, click the box next to Donating a Film Camera, and let me know what you have. In your note, be sure to include your shipping address.
If it's a camera we can use for the shop, I'll send you a Donation Kit that includes a USPS Priority Mail shipping box and prepaid label. All you have to do is tape it up, insert the camera, and add the label. USPS will pick up your shipment from the front door of your house during their regular mail delivery. It's that simple!
Your donation help get analog gear in the hands of aspiring fine art photographers, and the proceeds help support this podcast.
Virtual Camera Club News
Inner Circle Members: A big thanks to those who support our podcast and our efforts!
Second Session of Integrating iPhone into a Pro Photography Workflow Online Workshop - April 21 to May 15, 2021: The first session of "Integrating iPhone into a Pro Photography Workflow" Online Workshop has sold out. But now I've posted a second session that begins April 21, 2021. If you're interested in attending, just go to catalog page.
My Writing on Medium.com: I now have more than 25 published articles on Medium.com. And if you haven't visited the site, and enjoy good writing on a variety of topics, I suggest that you may want to take a look. You can just go to the home page and enter "Derrick Story" in the search field. And if you like what you read, then follow me!
EV Explorers for Those Who Are Interested in Electric Cars: I've created a new group on DerrickStoryOnline titled EV Explorers. The tagline for this group is: "Bringing Curiosity and Nimbleosity to the World of Electric Vehicle Transportation." Here we can share information, tips, discoveries and more about using electric vehicles for our photography adventures. If you want to join this group, click on this link for an invite. We're going to keep this as a private group for now, but you are invited to join us.
Affiliate Links - The links to some products in this podcast contain an affiliate code that credits The Digital Story for any purchases made from B&H Photo and Amazon via that click-through. Depending on the purchase, we may receive some financial compensation.
And finally, be sure to visit our friends at Red River Paper for all of your inkjet supply needs.
See you next week!
Product Links and Comments
There are product links in this article that contain affiliate tags. In some cases, depending on the product, The Digital Story may receive compensation if you purchase a product via one of those links. There is no additional cost to you.
You can share your thoughts at the TDS Facebook page, where I'll post this story for discussion.