This is The Digital Story Podcast #614, Dec. 19, 2017. Today's theme is "The Roadmap for 2018." I'm Derrick Story.
Opening Monologue
I've been thinking a lot about the upcoming year. I've put together some terrific workshops and have a number of online classes planned as well. And then there are some new goodies, such as portfolio reviews. And of course we have to take care of our Inner Circle members. So I thought that this would be a good time to lay out the entire plan. Let's get ready for 2018!
The Roadmap for 2018
Next year's events will fall into 3 basic categories: Physical Workshops, Nimble Classrooms (online), and 1-on-1, which will be portfolio reviews. Those will also be available online for those who are not in the Northern California area.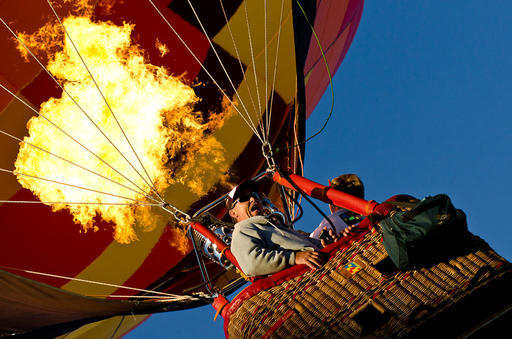 Big flames make hot air as a balloon lifts off into the sky over Kaiser Park. Photo by Aaron Hockley.
The Physical Workshops
In April you'll be immersed in an urban adventure with Derrick Story and Mike Boening for the San Francisco Street Photography event. Then in June, we're flying high by combining coverage of the Sonoma County Hot Air Balloon Festival combined with our first ever drone photography workshop. We wrap up the season in late September by exploring the magical Lassen Volcanic National Park and the lyrical Burney Falls. Plus, we have special surprises planned for each event.
The Nimble Classrooms
For those who plan on staying home this year, we've also launched the second season of our Nimble Classroom Series with online classes for Luminar, Capture One Pro 11, and Photos for macOS High Sierra. Just like with all of our workshops, we limit the number of participants to ensure a quality experience.
Portfolio Reviews
For those who want one-on-one feedback for a collection of a dozen of their images, I'm offering portfolio reviews in 2018 as well. They can be scheduled in person when you may be in town or we're attending the same conference, or you're already attending one of the TDS workshops. Or we can conduct them online as well.
I'll be in Las Vegas on Jan. 8th and 9th. And online appointments will be available starting in February 2018. If you're interested in a portfolio review, just use the Contact Form on The Nimble Photographer site.
Photos for macOS High Sierra Essential Training Available
Is it time for you to learn the ins and outs of the latest version of Photos? Take a look at Photos for macOS High Sierra Essential Training on LinkedIn Learning, or on lynda.com. Maximize your iPhone photography and complement the work you do with your mirrorless cameras as well. You'll love your cameras even more...
3 Libraries, 1 Low Price
So I've been talking about all of the royalty free content I can download via my videoblocks account. They help expand your horizons by constantly introducing you to new items in their library. This week, however, I want to talk about the special offer for TDS Listeners: 3 Libraries, 1 Low Price - $149 for the entire year provides you with unlimited access to 615,000+ Videos, Audio Tracks, and Images.
The Patreon Mea Culpa
Here's what I received from my friends at Patreon last week:
Dear Creators,
From the bottom of our hearts, we're truly sorry. Last week's service fee announcement caused a tough week for you, your patrons, and your teams. We were trying to solve a problem for creators and, in turn, caused more problems for you and your patrons.
You've spoken loud and clear. We're not going to rollout the changes to our payments system that we announced last week, and are currently assessing other options.
So, even though we're back to our original agreement, I'm going to stick to the offer that I made last week. For January 2018, I will post 3 training movies instead of the scheduled two. The software will be Capture One Pro, Photos for macOS High Sierra, and for Luminar. Thanks so much for your support!
To become an Inner Circle Member, simple pledge $5 or more a month through the TDS Patreon program.
We have more benefits coming in 2018 for our Inner Circle Members. Join today and become part of the TDS Elite.
Updates and Such
Big thanks to all of our Patreon members!
B&H and Amazon tiles on www.thedigitalstory. If you click on them first, you're helping to support this podcast. And speaking of supporting this show, and big thanks to our Patreon Inner Circle members.
And finally, be sure to visit our friends at Red River Paper for all of your inkjet supply needs.
Texas-based Red River Paper recently announced a new fine art paper, Palo Duro Etching. The new paper is a 100 percent cotton rag paper and is free of optical brightener additives. The paper is designed to offer warm white tones, deep blacks and a subtle texture to accurately recreate traditional darkroom fine art prints.
See you next week!
More Ways to Participate
Want to share photos and talk with other members in our virtual camera club? Check out our Flickr Public Group. And from those images, I choose the TDS Member Photo of the Day.
Podcast Sponsors
Videoblocks - Go to videoblocks.com/digitalstory to get all the stock video, audio, and images that you can imagine for just $149. Save on millions of studio-quality clips, tracks, and graphics.
Red River Paper - Keep up with the world of inkjet printing, and win free paper, by liking Red River Paper on Facebook.
The Nimbleosity Report
Do you want to keep up with the best content from The Digital Story and The Nimble Photographer? Sign up for The Nimbleosity Report, and receive highlights twice-a-month in a single page newsletter. Be a part of our community!
Want to Comment on this Post?
You can share your thoughts at the TDS Facebook page, where I'll post this story for discussion.