This week on The Digital Story: New site inspired by your questions: PhotoHelpDesk.com, Ever consider being a Bureau Chief?, the brand new Flickr Essential Training is ready for prime time - All of this and more in today's photography podcast.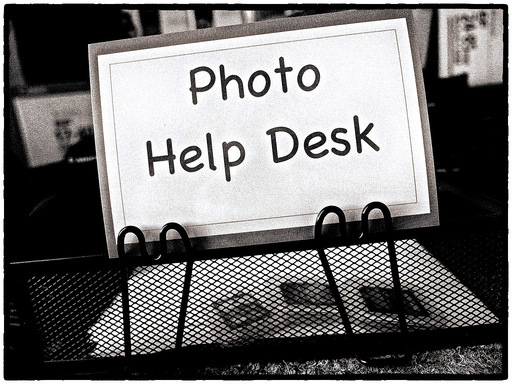 Story #1 - PhotoHelpDesk.com inspired by your questions. As you can imagine, I get a fair amount of email seeking my advice on a variety of photo-related questions. Recently, it dawned on me that instead of just helping one photographer at a time, this effort could help many.
If somehow I could share these conversations with our online community, then others who have similar questions could benefit too. This is the genesis of PhotoHelpDesk.com, a new site that will be part of our publishing family. My goal is to create an archive of relevant photographic knowledge that we can use and share with others. I discuss what I've built, how it works, and who it's for.
Story #2 - Bureau Chiefs for PhotoHelpDesk.com. Currently I have 7 basic categories for Photo Help Desk: DSLR Cameras, Mirrorless Cameras, Compact Cameras, Smart Phones, Aperture/iPhoto, Lightroom, and Buying Advice. I'm going to serve as Bureau Chief for Mirrorless, iPhoto, and Aperture.
I'm looking for two Bureau Chiefs to help me cover DSLRs, Compacts, Smart Phones, and Lightroom. I'd like each Bureau Chief to cover two topics.
If you're interested in joining the Photo Help Desk team, then send mail to photographyhelpdesk@gmail.com with Bureau Chief and your name in the subject line. Let me know what you're interested in covering, and why you'd be good at it. If you have writing samples to share, send those along too.
Story #3 - Flickr Essential Training 2013. Flickr has gone through many changes of late, including new mobile apps for iOS and Android, plus a revamped web presence. I've recorded an entirely new Flickr Essential Training for lynda.com to show you the ins and outs of my favorite photo sharing site. And now it's ready for prime time. Here's more about it.
Reminder! - If you're going to purchase gear through Amazon or B&H Photo, please stop by the TDS home page first. Look for the "Products" box about half way down the page in the second column. There you will see display tiles for Amazon, lynda.com, and B&H Photo, in that order. By entering those sites through those display tiles, you help support The Digital Story.
Listen to the Podcast
In addition to subscribing in iTunes, you can also download the podcast here (27 minutes). You can support this podcast by purchasing the TDS iPhone App for only $2.99 from the Apple App Store.
Monthly Photo Assignment
The July 2013 photo assignment is Duality.
More Ways to Participate
Want to share photos and talk with other members in our virtual camera club? Check out our Flickr Public Group. And from those images, I choose the TDS Member Photo of the Day.
---
iPad for Digital Photographers
If you love mobile photography like I do, then you'll enjoy iPad for Digital Photographers
-- now available in print, Kindle, and iBooks versions.
Podcast Sponsors
Red River Paper -- Keep up with the world of inkjet printing, and win free paper, by liking Red River Paper on Facebook.
Make Your Photos Sizzle with Color! -- SizzlPix is like High Definition TV for your photography.Special Offer! Anyone buying Derrick's new book, iPad for Digital Photographers, even at Amazon's or Barnes And Noble's discount, and putting the password for the Book Owners lounge in the comments space of their SizzlPix! order, will get 10 percent off their entire order -- the equivalent of more than a full refund for the book!
Need a New Photo Bag? Check out the Lowepro Specialty Store on The Digital Story and use discount code LP20 to save 20% at check out.
Want to Comment on this Post?
You can share your thoughts at the TDS Facebook page, where I'll post this story for discussion.