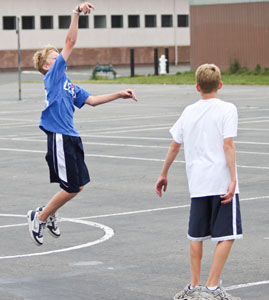 The Canon Rebel T1i is known for its HD video recording and 15 megapixel CMOS sensor. But this camera contains refinements in nearly every category. I recently published a field report with sample images tited, Street Shooting with Canon 500D/T1i, but I wanted to spend a little more time talking about the specifications and usability of the DSLR. And that's exactly what I do in this week's podcast.
Photo by Derrick Story with Canon Rebel T1i using the EF 75-300mm f/4-5.6 IS USM zoom lens. ISO 100, 1/640 at f/4.
Monthly Photo Assignment
Splash is the June 2009 Photo Assignment. You can capture anything from a child jumping in a pool to an olive dropping into a martini. You can read more about how to submit on our Submissions page. Deadline for entry is June 30, 2009.
Listen to the Podcast
You can also download the podcast here (29 minutes). Or better yet, subscribe to the podcast in iTunes.
Want to share photos and talk with other members in our virtual camera club? Check out our new Flickr Public Group. It's a blast!
---
-
---
Podcast Sponsors
SiteGrinder lets you take ownership of your websites. Effortlessly output pages right from Photoshop.
Red River Paper -- Try the $7.99 Sample Kit.
Add Magic to Your Slideshows -- FotoMagico presentations are so amazing that your audience will be asking how you did it.
---
Technorati Tags: digital photography, podcast, technique, Technology, The Digital Story, tips