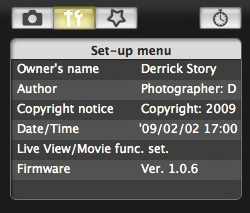 Most photos that are submitted to The Digital Story lack important metadata, such as author name and copyright. We have many good tools to help us identify our work so others know who the photographs belong to. For example, using EOS Utility, software that came with my Canon DSLR, I can add identifying metadata to the image at the point of capture. The first screen shot show me setting up the camera, and the second screenshot shows how the information is displayed in the Preview application for the Mac.
Top image: shows where I enter my personal metadata in EOS Utility so it will be included in the EXIF data of every shot I capture. Bottom image: here's how it appears in Preview after upload to my computer.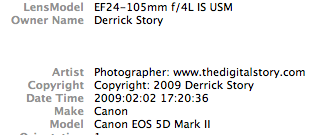 In this week's podcast, I talk about the value of personal metadata and cover ways that you can add it to your images.
Monthly Photo Assignment
Street Shot is the February 2009 Photo Assignment. Time to hit the pavement and discover the interesting moments of life that happen all around you. You can read more about how to submit on our Submissions page. Deadline for entry is Feb. 28, 2009.
Listen to the Podcast
Now that I've piqued your curiosity, it's time to listen to today's audio show titled, "Mark Your Photos" You can download the podcast here (25 minutes). You can also subscribe to the podcast in iTunes
The Digital Story podcasts are available for direct download from Apple iPhones. I've created a special mobile download page here. Just load the page in Safari, browse the podcast line-up, and click on the one you want to listen to.
Want to share photos and talk with other members in our virtual camera club? Check out our new Flickr Public Group. It's a blast!
---
-
---
Podcast Sponsors
SiteGrinder lets you take ownership of your websites. Effortlessly output pages right from Photoshop.
Red River Paper -- Try the $7.99 Sample Kit.
Add Magic to Your Slideshows -- FotoMagico presentations are so amazing that your audience will be asking how you did it.
---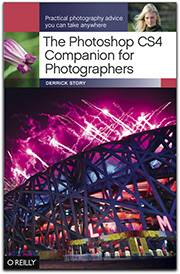 Learn what photographers need to know to organize and edit their images with Photoshop CS4. Take a look at The Photoshop CS4 Companion for Photographers. It fits in your laptop bag and is very easy on your wallet.
---
Technorati Tags: digital photography, podcast, technique, Technology, The Digital Story, tips