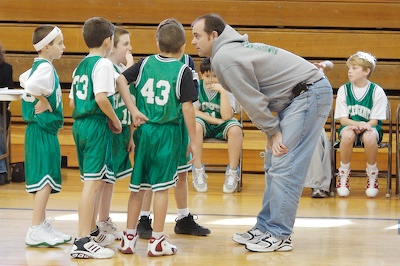 Indoor sports photography offers great opportunity to take pictures without having to venture out into the snow, rain, and cold. This type of shooting is also good practice for using your custom white balance setting, playing with ISO, and breaking out any fast glass you may have available.
In this podcast, I talk about a recent shoot inside a high school gymnasium where I use my Canon 5D, a 70-300mm IS zoom, and one of my favorite lenses, the 85mm f-1.8 Canon USM. I pulled out my ExpoDisc to help me tame the indoor lighting, and pushed the ISO to 800 or 1600 depending on which lens I had mounted.
I had lots of fun and came away with some good shots. Hopefully this show will inspire you to find some indoor sports in your neighborhood and do a little shooting yourself.
Photo by Derrick Story. Canon 5D, 70-300mm IS lens at 120mm, ISO 1600, f-5.6, 1/125th second, Raw format, Custom White Balance.
Dec. Photo Assignment
I also mention the December photo assignment, "Pool of Light." I originally got the idea for this assignment by looking at some of Steve Simon's existing light pictures when he composed the main subject in a pool of light and let everything else live in the shadows. I think this is very effective.
Listen to the Podcast
Now that I've piqued your curiosity, it's time to listen to today's audio show titled, "Indoor Sports." You can download the podcast here (26 minutes).
Technorati Tags: digital photography, podcast, The Digital Story
---
Sponsor Note...
ExpoDisc Custom White Balance -- Simply Better Color. Simply Better Pictures. Visit www.expodisc.com