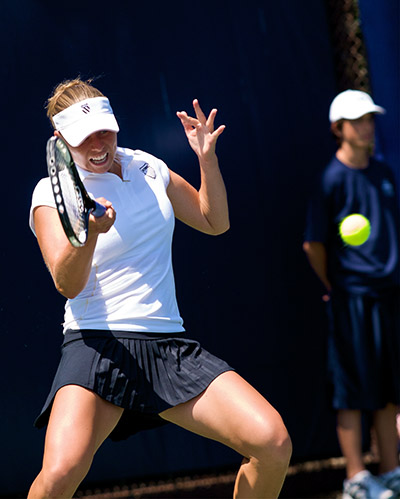 The difference between good glass and great glass, is, well, quite glaring. I recently had a chance to work with both in the same conditions. I was on the tennis courts at Stanford University in Northern California for the Bank of the West Classic. I started the day shooting with kit lenses that come with the impressive Olympus E-520. But then I got my hands on some of the Olympus pro glass. Oh my. What fun was that.
In this podcast I talk about my experience on the hardcourt using these different types of lenses. This shot, for example, was captured with the beautiful Zuiko 150mm f-2 (which is equal to 300mm when mounted on the E-520). I loved shooting with that lens.
Photo by Derrick Story with an Olympus E-520 and Zuiko 150mm f-2 lens.
Monthly Photo Assignment
Fire is this month's photo assignment. With Fourth of July behind us, plus wild fires raging across the Northern California landscape, fire is top of mind for me. As always, there are many ways to interpret this assignment. You can read more about how to submit on our Submissions page. Deadline for entry is July 31.
Listen to the Podcast
Now that I've piqued your curiosity, it's time to listen to today's audio show titled, "Go with the Better Glass." You can download the podcast here (25 minutes). You can also subscribe to the podcast in iTunes
The Digital Story podcasts are available for direct download from Apple iPhones. I've created a special mobile download page here. Just load the page in Safari, browse the podcast line-up, and click on the one you want to listen to.
Want to share photos and talk with other members in our virtual camera club? Check out our new Flickr Public Group. It's a blast!

Events! See the TDS Event Calendar for photography workshops, speaking engagements, and trade show appearances.
---
Technorati Tags: digital photography, podcast, technique, Technology, The Digital Story, tips
---
Sponsor Notes...
Lowepro Bags for Photographers On the Go -- Lowepro gear for every type of camera rig, every type of photographer.
Add Magic to Your Slideshows -- FotoMagico presentations are so amazing that your audience will be asking how you did it.