This is The Digital Story Podcast #753, August 25, 2020. Today's theme is "A RAW Look at Image Differences Between Smartphones and Cameras." I'm Derrick Story.
Opening Monologue
As a guy who loves to shoot with both his iPhone and digital cameras, I wondered how much of a difference there is between the two when I shoot in RAW. The smartphone certainly holds its own when it comes to Jpegs. Is it equally competitive with RAW files? So I conducted a test and compared an iPhone X with an Fujifilm X100V. And I share my findings in today's TDS photography podcast.
A RAW Look at Image Differences Between Smartphones and Cameras
Left: Fujifilm X100V - Right: iPhone X - Rendered in Capture One Pro 20
I'm a bit surprised that I never set aside the time to do this test before. I enjoy photography with both my iPhone and my Olympus, Fujifilm Nikon, and Pentax cameras. I rarely shoot in RAW on the iPhone, but did so for this test since I capture in RAW on my other cameras. So I wanted a pears to pears comparison.
My subject was a bowl of pears from my yard photographed in natural light. As best I could, I maintained similar angles and avoided exposure compensation. I let the cameras do the work, using the RAW files from each.
To decode and view the images, I used Capture One Pro 20 and Lightroom CC. My cameras were an iPhone X and Fujifilm X100V. I did use camera and lens profiles when they were available, and I did add some warmth to these through white balance. But I let the apps do the rest of the processing using their respective auto enhancements.
BTW: As a point of reference, the DNGs from the iPhone were 12.1 MBs for a 12MP file vs the RAF files from the X100V that are 56.8 MBs for a 26MP image. That is a substantial difference.
After comparing the output, here's what I noticed.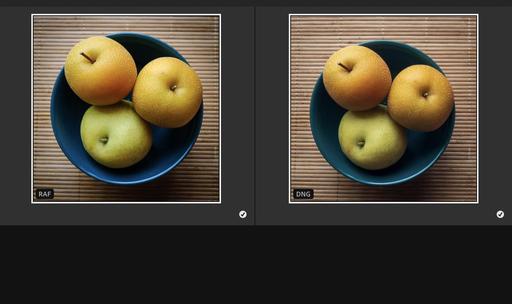 Left: Fujifilm X100V - Right: iPhone X - Rendered in Adobe Lightroom
Smartphones continue to impress - There are differences between the two files, which I will note, but overall I wanted to state that the DNGs from the iPhone are quite respectable, especially in terms of detail. Can I tell the difference? Yes I can. But it's much closer than one might initially think.

Depth of Field - This isn't a RAW thing so much, but boy is it noticeable. Even when I stopped down to f/5.6 on the X100V, the falloff is so much more pleasing that shooting at f/2.4 on the iPhone, which renders everything sharp.

Color Science - The color difference was very noticeable to me. The iPhone had a much harder time rendering subtle hue difference. This was particularly noticeable on the backside of the pear in the upper left corner. There is this wonderful peachy coloring in the Fuji shot, but in all of the iPhone images that area went brown, as if the gamut was narrower for the iPhone. Also, and this will sound funny, the fruit looked much more edible with the Fuji shots compared to the iPhone rendering.

Sharpness: Both images are sharp, but the characteristics are much different. The textures on the iPhone pears are more pronounced, almost exaggerated, compared to the more delicate rendering from the X100V. Again, I'm not sure that I would want to eat the fruit in the iPhone shot.

Shadows and Highlights: Again, an admirable rendering by the iPhone. The shadows were good with decent gradation. But the shadows from the X100V were more pleasing, and the highlights were brighter, but still retained detail. The iPhone highlights were more controlled with less contrast. I feel the X100V shot has more life.
If I didn't have the X100V RAW files in the same album as the iPhone images, I would say that the iPhone RAWs were very good. And to be honest, they are. But when you compare the two side by side, little differences become quite noticeable.
And I think that is how I would sum up the comparison. If little differences in color science, tonality, and texture are important to you, it's still very worth it to carry a digital camera for the images that you want to draw the most out of in post.
The gulf becomes even wider when it comes to background control. And for a lot of photographers, the conversation would end right there.
Panasonic will announce, via livestream, its new Lumix S5 full-frame camera on September 2
You can read the entire article on DP Review.
Panasonic has announced it will hold an online launch event for its new full-frame mirrorless camera, the Lumix S5, on Wednesday, September 2, 2020, at 10 AM EDT.
Aside from the date and time, no further information was shared about the camera or launch event. Panasonic suggests keeping an eye on its Lumix S5 webpage and Instagram account, but we will also update this article with a link to the event when it goes live.
Rumor has it, however, that the S5 will be more compact and affordable than existing options from Panasonic. According to Digital Camera World, "the Panasonic S5 will be one-third smaller and lighter than the S1, has a 24.2MP sensor, 4K, Dual Native ISO, and will cost $1,998. Those specs are pretty compelling. We'll find out for sure soon enough.
The New Donation Kit for Carefree Shipping of Found Film Cameras
We have more time around the house than ever. And you finally dove into that bedroom closet that's been begging for some organization.
If you found a film camera that you're no longer using, our new Donation Kit makes it easy to pack and ship. Just visit the Contact Form on thenimblephotographer.com, click the box next to Donating a Film Camera, and let me know what you have. In your note, be sure to include your shipping address.
If it's a camera we can use for the shop, I'll send you a Donation Kit that includes a USPS Priority Mail shipping box and prepaid label. All you have to do is tape it up, insert the camera, and add the label. USPS will pick up your shipment from the front door of your house during their regular mail delivery. It's that simple!
Your donation help get analog gear in the hands of aspiring fine art photographers, and the proceeds help support this podcast.
My Expansion into Music and Audio
With two new music titles about to release: "Ripping and Cataloging Audio CDs" and "Enjoying and Digitizing Vinyl Records," you may be wondering how these topics fit with the traditional content on TheDigitalStory that is primarily image based.
The answer is: Quite Well!
Audio has always been a part of our world here. This is a podcast for heaven's sakes! And as I look at our changing world and how we might be adapting to it, I see music being a big part of the formula that helps us stay happy and creative.
Plus, one of the side effects to the popularity of digital music is that we're listening more and more on small devices with earbuds and bluetooth speakers. There's no denying that this is highly convenient, but if you play the same music on via a CD or record album on a HiFi stereo, it will sound different. And at times, very different.
From my perspective, this is no more a campaign against digital downloads for music than it is for smartphone photography. They are both here to stay, and I like 'em! But, if we're limited to smartphones for photography and audio, then we are missing a lot. And I want to advocate for richer experiences on both fronts to augment the digital convenience we tend to rely on.
If this resonates with you at all, then please take a look at these two titles that will appear on TheNimblePhotographer site later this week. I'm loving rediscovering music on this level, and I'm hoping that you may as well.
The Essential Steps to Impressive Video Conferencing
If you want to learn more about looking and sounding great for your next online interaction, then I think you'll very much enjoy my latest online workshop, The Essential Steps to Impressive Video Conferencing.
This 1-hour deep dive focuses on the 3 major areas of successful online interaction: Audio, Video, and Environment. During the course, I walk you through a variety of techniques that range from simple using gear that you already have, to improving your chops through a few inexpensive purchases.
The course is currently available for free to our Inner Circle Members on Patreon. Members, just go to our Patreon site, and all the information will be there. If you're not already an Inner Circle Member, you can join us for $5 a month.
The course is also available on our Nimble Photographer Workshop Page for $14.95.
I have tons of great tips and techniques waiting for you there. If you want to get serious about how you come across during online meetings, classes, interviews, and family interactions, then you definitely will want to watch this course.
Digitizing Family Memories Course Now Available Online
Each of the four classes will outline a specific set of steps for you to accomplish. By the end of the course, you will have an organized digital archive of your most valuable family images.
You can sign up for the course by visiting the Workshops page on The Nimble Photographer. The course fee is a reasonable $39 (on sale right now). It includes the 4 class videos, class notes, and access to the class forums that are a part of each movie.
Updates and Such
Inner Circle Members: A big thanks to those who support our podcast and our efforts!
How to Watch Photos for macOS Catalina and iPadOS - Learn everything you need to know about Photos for the Mac and iPad by checking out my latest course on LinkedIn Learning and on lynda.com. This course is perfect for Mac and iPad based photographers who shoot with iPhone, Mirrorless, and DSLR cameras. It covers both photography and movies. And if I say so myself, it's a lot of fun.
B&H and Amazon tiles on www.thedigitalstory. If you click on them first, you're helping to support this podcast. (The Digital Story is supported by its audience. When you purchase through links on our site, we may earn an affiliate commission.) And speaking of supporting this show, and big thanks to our Patreon Inner Circle members:
Affiliate Links - The links to some products in this podcast contain an affiliate code that credits The Digital Story for any purchases made from B&H Photo and Amazon via that click-through. Depending on the purchase, we may receive some financial compensation.
And finally, be sure to visit our friends at Red River Paper for all of your inkjet supply needs.
See you next week!
Product Links and Comments
There are product links in this article that contain affiliate tags. In some cases, depending on the product, The Digital Story may receive compensation if you purchase a product via one of those links. There is no additional cost to you.
You can share your thoughts at the TDS Facebook page, where I'll post this story for discussion.