This is The Digital Story Podcast #527, April 12, 2016. Today's theme is "Are Your Pictures Too Perfect?" I'm Derrick Story.
Opening Monologue
Photographers tend to be obsessed with perfection. Many discussions I read focus on the sharpest lens, the best image sensor, and the most extreme low light capability. But as part of that quest for the best, do we lose the feeling? Today's top story explores image perfection and its side effects.
Are Your Pictures Too Perfect?
I was reading an article titled, In Defense of Steve McCurry (Petapixel, Allen Murabayashi) where the author cited a critical comment about McCurry's new book, India. The comment was by New York Times Magazine photography critic, Tegu Cole, who wrote about McCurry, "Here's an old-timer with a dyed beard. Here's a doe-eyed child in a head scarf. The pictures are staged or shot to look as if they were. They are astonishingly boring." Later, Cole suggests that the perfectness of McCurry's photos somehow invalidates them - also slyly suggesting that McCurry's 1 million Instagram followers is proof of the eye candy nature of his images. Cole's criticism might also imply that the entirety of National Geographic photography is boring and "too perfect."
This got me thinking about the pursuit of perfection, and how it might lead to an absence of emotion. Here are a few points to consider.
Wrong side of the brain - When we become obsessed with the technical details, we may find ourselves stuck on the wrong side of the brain.

Viewers respond to images that make them feel something. Generally speaking, they don't care about the technical details of a photograph as much as they do about its content.

Photographers sometimes hide behind tech. Instead of stretching our artistic capabilities, we take an easy way out by pursuing technical perfection.

We forget to seek feedback. Instead of presenting a handful of images to a viewer and asking for comments, we think we know the best photos and move forward accordingly.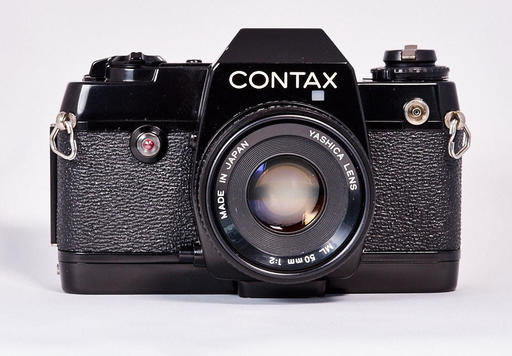 theAnalogstory.com Debuts with Camera Giveaway for Film Photography Day
In celebration of Film Photography Day, we're giving away one Contax 137MD film camera with a 50mm lens. All you have to do is visit theAnalogstory.com and click on the red announcement banner across the top of the site. That will lead you to the page that spells out the details.
What, you didn't know about theAnalogstory.com? That's because it's brand new. Its focus is film photography in the digital age. And with contributions by photographers who have rediscovered film, plus a Camera Shop, Tech Specs, and more, my hope is that you'll find inspiration there too.
Film Photography Day was started by the good folks over at Lomography.com. You might want to wander over and take a look at their microsite too.
Mounting Old Lenses on New Cameras
This piece ties into both themes of today's show: disrupting the perfection of digital photography and enjoying the classic optics of analog gear. So I wanted to revisit the practice of dusting off one of your favorite optics from the film days, finding an adapter to mount it to your digital camera, and exploring the imagery you can create with than tandem.
Updates and Such
In Aperture Exile? Easing the change to Capture One, with guest Derrick Story - I'll be the special guest on an upcoming Capture One Pro webinar on April 13 at 9:00 AM PDT. The webinar is free, and you can sign up here.
Eastern Sierra Reservation Forms Went Out - I sent out the workshop reservation forms to the Reserve List this weekend. If you were on the list and didn't get a form, please send me an email. The Eastern Sierra photography workshop begins Thursday evening, Oct. 20 and runs through Sunday, Oct. 23rd. If you want to get on the next round reserve list, then go to the TDS Workshops page and use the Send Me Info form to get on the list.
And finally, be sure to visit our friends at Red River Paper for all of your inkjet supply needs.
See you next week!
More Ways to Participate
Want to share photos and talk with other members in our virtual camera club? Check out our Flickr Public Group. And from those images, I choose the TDS Member Photo of the Day.
Podcast Sponsors
Red River Paper - Keep up with the world of inkjet printing, and win free paper, by liking Red River Paper on Facebook.
ImageFramer Take your photos to the next level with ImageFramer. Visit www.apparentsoft.com today.
MacPaw Creators of CleanMyMac 3 and other great software for Apple computers. Visit www.macpaw.com today.
The Nimbleosity Report
Do you want to keep up with the best content from The Digital Story and The Nimble Photographer? Sign up for The Nimbleosity Report, and receive highlights twice-a-month in a single page newsletter. Be a part of our community!
Want to Comment on this Post?
You can share your thoughts at the TDS Facebook page, where I'll post this story for discussion.