This week on The Digital Story photography podcast: Sigma Takes on Zeiss with its New 50mm f/1.4 Art lens; Apple TV Review; From the Screening Room: Tim Grey: Photoshop CC Raw Workshop; and on the Nimbleosity Report: PhotoSync for iOS and Mac - All of this and more on today's show with Derrick Story.
Story #1 - The Weekly Update: Olympus OM-D E-M10 shooting experience and studio tests published (DP Review) "Live Composite, new to the E-M10, captures a series of long exposures, analyzing each frame to keep the brightest pixel in each location and creating a single composite image. In plain terms, it captures light trails without overexposing the rest of the frame, taking the guesswork out of long exposure photography. You get to preview the effect as the exposure builds up on screen and choose when to stop."
In other news, Sigma wasn't bluffing: 50mm f/1.4 Art appears to match Zeiss Otus ($3,990) on sharpness, beats it on contrast (Imaging-Resource).
And finally, Fujifilm Discontinues Neopan 400 PRESTO 35mm and Fujicolor PRO 400 120 Film (PetaPixel).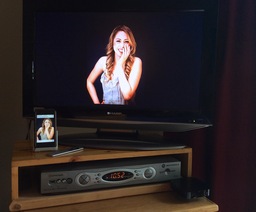 Story #2 - Apple TV Review
Now that Apple has declared that Apple TV is no longer a hobby, I thought it might be a good time to check in with the Internet-connected hockey puck.
The positives can be boiled down to a few basic features:
AirPlay Mirroring - I can share just about anything from an iPhone, iPad or current Mac via AirPlay. Great for showing off your pictures or videos to a small audience.
Apple Content - Movies, TV shows, music, iTunes Radio, and podcasts are easily accessible.
Some Interesting 3rd Party Content - Sky News, YouTube, Vimeo, Flickr, Vevo, HBO Go, Netflix, hulu, PBS,and others round out a variety of content that has something for just about anyone.
Remote Control App - Using the iPhone or iPad to enter searches and passwords is much simpler that the Apple TV interface.
Bluetooth Keyboard Compatible - You can even connect your Apple wireless keyboard to the Apple TV.
There are a handful of shortcomings too:
No iOS Apps - If apps were enabled, I could do things such as run Olympus Share on the Apple TV and view my photos in HD, streamed directly from the camera.
Pesky Subscriptions - I find something interesting to watch, only to learn that I need a cable subscription or that from a particular service in order to view. So that Apple TV channel isn't really a channel, but an advertising tile.
Spotty Performance - I have screaming bandwidth at my studio, but many of the 3rd party services are slow to load and often stall while in progress.
Bottom Line: I think the Apple TV is a terrific device for $99. I use AirPlay Mirroring often, and I enjoy listening to podcasts and watching movies with the device.
But it has a long ways to go, as I'm sure even Apple will admit. iOS apps could open many doors for Apple TV. That is the top request on my list.
Story #3 - From the Screening Room - Tim Grey: Photoshop CC Raw Workshop, Image Sharpening. This week's featured artist is Photoshop veteran, Tim Grey. Tim tackles a variety of techniques in this week's featured title, including image sharpening.
You can watch Tim in action by visiting the TDS Screening Room at lynda.com/thedigitalstory. While you're there, you can start your 7 day free trial to watch other photography titles, plus every other topic in the library.
Story #4 - The Nimbleosity Report - Super handy PhotoSync for iOS and your Mac.
Virtual Camera Club News
Photo Assignment for March 2014 is HDR.
The SizzlPix! Head to Head Challenge
Order a SizzlPix! using the image from which you've already made your best print. If, when you receive your SizzlPix!, you don't feel that it's the best version of your image ever, return yours within 30 days for a full refund.
Oh, and BTW: SizzlPix! now is qualified for PayPal "Bill Me Later," No payments, No interest for up to 6 months, which means, have your SizzlPix! now, and pay nothing until August!
BTW: If you're ordering through B&H or Amazon, please click on the respective ad tile under the Products header in the box half way down the 2nd column on thedigitalstory.com. That helps support the site.
Listen to the Podcast
In addition to subscribing in iTunes, you can also download the podcast file here (32 minutes). You can support this podcast by purchasing the TDS iPhone App for only $2.99 from the Apple App Store.
More Ways to Participate
Want to share photos and talk with other members in our virtual camera club? Check out our Flickr Public Group. And from those images, I choose the TDS Member Photo of the Day.
Podcast Sponsors
lynda.com - Learn lighting, portraiture, Photoshop skills, and more from expert-taught videos at lynda.com/thedigitalstory.
Red River Paper -- Keep up with the world of inkjet printing, and win free paper, by liking Red River Paper on Facebook.
SizzlPix! - High resolution output for your photography. You've never seen your imagery look so good. SizzlPix.com.
Want to Comment on this Post?
You can share your thoughts at the TDS Facebook page, where I'll post this story for discussion.