This is The Digital Story Podcast #631, April 17, 2018. Today's theme is "Are There Any Benefits to Watermarking?." I'm Derrick Story.
Opening Monologue
A bad watermark is like pimple on the nose of a beautiful person. You want to enjoy the beauty, but all you can see is the pimple. But not all watermarks are bad. And in fact, they can be both tasteful and useful. And the quest to figure all of that out is the subject of today's TDS podcast.
Are There Any Benefits to Watermarking?
Watermarking Pros - They are a simple way to identify the creator of the image. Plus, they can be used as branding opportunities.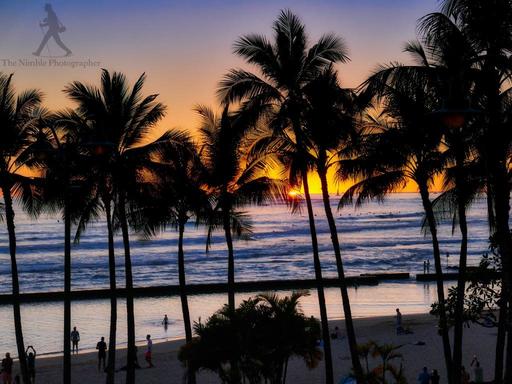 However, to create the best experience for your viewer, keep these tips in mind:
Consider why you're watermarking in the first place. If it's to prevent theft, you very well could be wasting your time. Services like Pixsy do a better job. Also make sure that your copyright information is in the metadata.

If you use a signature as your watermark, make sure it's legible.

Be careful with brand building watermarks so that don't clutter up the composition and detract from the image. This is especially true if they contains logos.

Position the watermark so it creates the least amount of distraction.

Put your watermarks on a separate layer so you can control their use, opacity, and appearance. I published an article on TDS on how to do this with Luminar.
RAW 1.1 Features Lots of Improvements
I've been working with the new iOS version on my iPhone, and I have to say that I'm quite impressed. RAW Power brings to iOS the impressive RAW decoding and editing that was formerly only available in Apple's Aperture professional photo application. Using adjustments like Boost, you can improve your images in ways that simply can't be done in any other application. It works great for Jpegs as well. Here's what's new in 1.1:
New "RAW Images" Smart Album and ability to filter any album to show just RAWs
View complete folder and album hierarchy
Export images to Files.app as TIFF-8 and TIFF-16, JPEG, and PNG
DPI and Compression preferences
Delete image in the single photo view ("1-up")
Greatly improved Share features
Improved Layout and UI with larger controls
"Gear Down" sliders for 10x more precision when adjusting
3D Touch in 1-Up
Full-size Curves adjustment in vertical screen mode
Show / Hide Thumbnails in Edit
Adjustable Thumbnail size in 1-up and Edit
Auto-histogram shows and hides itself to avoid covering the image
Revert Image feature greatly improved
Re-center button for Map
Aerial Photography Workshop
Public registration is now open for the Sonoma Country Hot Air Balloon and Drone Photography Workshop, June 8-10, 2018. We're combining two very fun aerial activities into one workshop. Sign up today and join us!
The Apple Photos Book for Photographers, 2nd Edition
The Apple Photos Book for Photographers, 2nd Ed is now available on Amazon. Also, feel free to post a review on Amazon once you've read the book. They're helpful to potential buyers.
Digital Asset Management with Luminar - Nimble Classroom
Even though I have the class scheduled for April 21, I'm going to have to move it back until Skylum releases the gold copy of the DAM. If you've already signed up for the class, I will contact you directly about this. If you want to grab one of the few remaining seats, I would go ahead and do that as well. We will run the class as soon as the software is ready.
Do You Have a Film Camera that Needs a Good Home?
Over the last year, I've received donations from TDS members who have film cameras that need a good home. What I do is inspect the items, repair and clean as I can, then list them in TheFilmCameraShop where I can find a good home for them. If you're interested in donating, please use the Contact Form on TheNimblePhotographer site. And thanks for you consideration!
Reservation Forms have been sent for the Burney Falls and Lassen Volcanic National Park Workshop
We have our cabin reservations secured for Sept. 27-29, 2018 for the Burney Falls and Lassen Volcanic National Park Workshop. I sent out reservation forms this last weekend. So if you are on the reserve list, you should have received an invite.
Updates and Such
You can become a member of our Inner Circle by clicking on this link or by clicking on the Patreon tile that's on every page of The Digital Story.
B&H and Amazon tiles on www.thedigitalstory. If you click on them first, you're helping to support this podcast. And speaking of supporting this show, and big thanks to our Patreon Inner Circle members:
And finally, be sure to visit our friends at Red River Paper for all of your inkjet supply needs.
See you next week!
More Ways to Participate
Want to share photos and talk with other members in our virtual camera club? Check out our Flickr Public Group. And from those images, I choose the TDS Member Photo of the Day.
Podcast Sponsors
Red River Paper - Keep up with the world of inkjet printing, and win free paper, by liking Red River Paper on Facebook.
The Nimbleosity Report
Do you want to keep up with the best content from The Digital Story and The Nimble Photographer? Sign up for The Nimbleosity Report, and receive highlights twice-a-month in a single page newsletter. Be a part of our community!
Want to Comment on this Post?
You can share your thoughts at the TDS Facebook page, where I'll post this story for discussion.