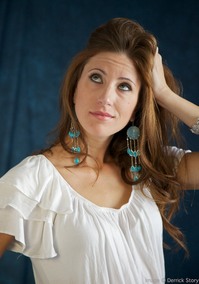 One of the most common complaints I hear from photo subjects is that the photographer doesn't communicate during the shoot. I can see both sides to this equation. On one hand, shooters are ofter absorbed in figuring out lighting, camera settings, and composition and forget to talk. Yet, imagine being a subject just standing there wondering what's going on. In this week's podcast I share tips on how to build rapport for your people shots. These tips will help you with a variety of assignments... just about anything that involves another person.
Listen to the Podcast
You can also download the podcast here (30 minutes). Or better yet, subscribe to the podcast in iTunes. You can support this podcast by purchasing the TDS iPhone App for only $2.99 from the Apple App Store.
Monthly Photo Assignment
Black & White is the Nov. 2011 Photo Assignment. You can read more about how to submit on our Member Participation page. Deadline for entry is Nov. 30, 2011.
More Ways to Participate
Want to share photos and talk with other members in our virtual camera club? Check out our Flickr Public Group. And from those images, I choose the TDS Member Photo of the Day.
Podcast Sponsors
Red River Paper -- The $7.99 Sample Kit is back! And with free shipping.
Make Your Photos Sizzle with Color! -- SizzlPix is like High Definition TV for your photography.
Need a New Photo Bag? Check out the Lowepro Specialty Store on The Digital Story and use discount code LP20 to saven 20% at check out.
---
Technorati Tags:
digital photography
,
podcast
,
technique
,
Technology
,
The Digital Story
,
tips