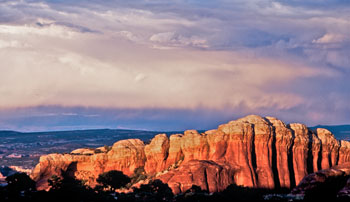 It's time to start using the pictures we took before 1999. Many of us have two lives as photographers: The "slide and negative days" prior to 2000, and the digital age that followed. But what about all of those great images we captured prior to the digital age? Shouldn't we incorporate them into our Aperture, Lightroom, and iPhoto libraries? In this podcast I talk about strategies for digitizing our analog photographs.
---
Image from Arches National Park in Utah captured with a Contax 35mm camera using a Zeiss 85mm lens on Fuji slide film. Slide was digitized using a Canon 5D Mark II with a slide duplicator attachment. You can read about the digitizing rig in this article: Canon 5D 35mm Slide Digitizer - DIY. Photo by Derrick Story.
---
Listen to the Podcast
You can also download the podcast here (31 minutes). Or better yet, subscribe to the podcast in iTunes.
Monthly Photo Assignment
Soft Background is the July 2009 Photo Assignment. You can create the effect when you shoot with a telephoto or wide aperture lens, or take care of it in post production with Photoshop. You can read more about how to submit on our Member Participation page. Deadline for entry is July 31, 2009.
More Ways to Participate
Want to share photos and talk with other members in our virtual camera club? Check out our Flickr Public Group. It's a blast!
---
-
---
Podcast Sponsors
SiteGrinder lets you take ownership of your websites. Effortlessly output pages right from Photoshop.
Red River Paper -- Try the $7.99 Sample Kit.
Add Magic to Your Slideshows -- FotoMagico presentations are so amazing that your audience will be asking how you did it.
---
Technorati Tags: digital photography, podcast, technique, Technology, The Digital Story, tips