This week on The Digital Story photography podcast: Sony RX 200 in the Works?; an Ultra-Nimble 4x5 Camera; Loom and Doom; and Flickr 3.0 for iOS is Solid - All of this and more on today's show with Derrick Story.
Story #1 - The Weekly Update: The top story this week is the Wanderlust Travel 4X5 film camera. "Fully loaded, the Travelwide is lighter than a DSLR. In fact, at 275 grams (9.7 ounces), it's the lightest 4×5 ever made. But thanks to its high-impact unibody construction, it's also one of the toughest." Travelwide accepts most 90mm lenses, and a Pinwide pinhole is included--so you can start taking photos right away. $149 shipping this summer.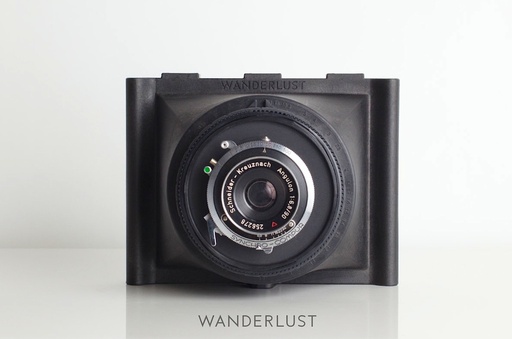 In other news, Eye-Fi puts your camera in the cloud with Android, iOS apps. "Eye-Fi says that your US$49 annual subscription cost -- just a touch over US$4 per month -- provides you with unlimited storage, and notes that images are transferred at full resolution. As has always been the case, Eye-Fi Mobi cards don't transfer raw files, and only allow videos for certain formats." (Source: Imaging-Resource.com).
And finally, New Sony RX200 Patent Shows an Exciting 28-100mm Equivalent f/1.8-2.8 Lens. The current RX100/RX100 Mark II sport the same focal length, but that lens stops down all the way to f/4.9 by the time you get to 100mm. This new lens would mean a much better low-light experience even when you're a bit further away from your subject. (Source: PetaPixel)
Story #2 - Flickr 3.0 for iOS Is a Solid Single to Right. Not only do we get new The New Mobile Flickr is competes with any of the big boys, including Instagram and Facebook. I provide you with an overview in today's second segment.
Story #3 - From the Screening Room - Designing an Infographic with Nigel French. This week we learn how those cool infographics are designed by master designer, Nigel French.
You can watch Nigel in action by visiting the TDS Screening Room at lynda.com/thedigitalstory. While you're there, you can start your 7 day free trial to watch other design, photography, and computing titles, plus every other topic in the library.
Story #4 - The Nimbleosity Report - Loom and Doom. My kiss of death proves fatal again for start-up mobile backup apps. First, Everpix, and now Loom. The silver lining is that Loom was acquired by Dropbox and incorporated into Carousel. I provide some insights about this transition.
Virtual Camera Club News
Workshop News: I've sent out invites to the Reserve List for the Fall Color with Safari West Workshop, October 24-26, 2014. You can learn about them both, plus request a reservation form by visiting the TDS Workshops Page and using the "Send Me Info" box.
Photo Assignment for April 2014 is "Flower Power".
If you haven't done so already, please post a review for The Digital Story Podcast in iTunes.
BTW: If you're ordering through B&H or Amazon, please click on the respective ad tile under the Products header in the box half way down the 2nd column on thedigitalstory.com. That helps support the site.
Listen to the Podcast
In addition to subscribing in iTunes, you can also download the podcast file here (33 minutes). You can support this podcast by purchasing the TDS iPhone App for only $2.99 from the Apple App Store.
More Ways to Participate
Want to share photos and talk with other members in our virtual camera club? Check out our Flickr Public Group. And from those images, I choose the TDS Member Photo of the Day.
Podcast Sponsors
lynda.com - Learn lighting, portraiture, Photoshop skills, and more from expert-taught videos at lynda.com/thedigitalstory.
Red River Paper -- Keep up with the world of inkjet printing, and win free paper, by liking Red River Paper on Facebook.
SizzlPix! - High resolution output for your photography. You've never seen your imagery look so good. SizzlPix.com. SizzlPix! now is qualified for PayPal "Bill Me Later," No payments, No interest for up to 6 months, which means, have your SizzlPix! now, and pay nothing until August!
Want to Comment on this Post?
You can share your thoughts at the TDS Facebook page, where I'll post this story for discussion.