This week on The Digital Story Photography Podcast: Canon 50mm STM Hands-On Review, Google Photos Hits the Streets, 5 Reasons Why You Should Buy a Collapsable Reflector, Father's Day Gift Ideas - all of this and more on today's show with Derrick Story.
Weekly Update - "Google Photos Offers Free and Unlimited Storage and Sharing of Your Memories". PetaPixel reports: "The new Photos service lets you store unlimited, high-quality photos and videos for free. The free storage covers photos of up to 16MP in original resolution and videos of up to 1080p HD. Google will store higher-resolution files as well, but they'll count toward your Google account's 15GB of free storage."
In other news... "Mary Ellen Mark, a legend among photographers, sadly passed away on May 25th, 2015 at the age of 75." A nice write up about here on DIY Photography. I met Mary Ellen at the LOOK3 festival in 2011. I had been a fan of hers ever since I first saw her book Streetwise, which is one of my all time favorite photo books. She worked a lot for LIFE magazine, which was the dream job for me as a kid. Her passing is a great loss for the photography world.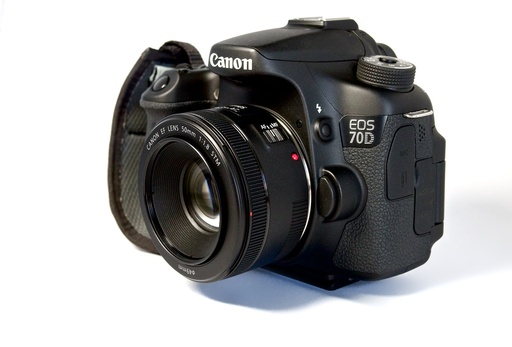 Story #1 - "Canon 50mm f/1.8 STM Hands On Review" - This is a fun $125 prime optic from Canon. In this segment of the show, I cover its pros and cons after field testing. Those include:
Pros
Terrific STM motor that's definitely more quiet than its predecessor. Performed well for movie recording, focused fast and quietly.
Updated design looks good on current Canon DSLRs.
Metal lens mount nice update from previous plastic model.
Improved manual focusing ring. Manual focusing only works when camera is on, however, thanks to the STM system. In fact, if you want to retract the lens barrel all the way in, you need to turn on the camera to do so.
Manual focus override when half pressing the shutter.
Seven aperture blades for smoother bokeh (compared to 5 blades before).
Reasonable minimal focusing for close up photography.
Optional bayonet mount lens hood available (and yes, it does reverse.)
Cons
Confusing metadata listing: "Canon EF 50mm f/1.8 or Canon EF 50mm f/1.8 II"
Green chromatic aberration visible at wide apertures. Canon 70D says: "Correction data not available, cannot correct."
Lens not super sharp, but does capture a pleasing rendering of scenes.
Wish it performed just a little better wide open. I found myself stopping down to f/2.2 or f/2.5 to better control CA.
Along those lines, it tends to underexpose at f/1.8.
No image stabilization. I think it would have been a real coup to add IS to this lens, even if it increased the price a few dollars to do so.
The bottom line is that this is a good lens for the price, and it yields pleasing images with terrific autofocusing.
Story #2 - "5 Reasons Why You Should Buy a Collapsable Reflector"
Reflectors don't require batteries or power cords. They're always on.
They collapse into very compact packages that are easy to tote. Plus, when they're in their round carrying cases, they make a great place to sit on the ground while waiting for the model to finish her hair.
5-in-1 reflectors provide you with a variety of lighting options, from cool fill light to super-coppertone-bronze. No messy lotions required.
Reflectors a great for budding friendships. You can ask a nice person to lend a helping hand during the shoot, thereby creating a captive audience for your delightful banter.
Reflectors are super inexpensive. You might not be able to afford a new dedicated flash, but everyone can scrape together the scratch for a reflector.
Story #3 - "Safari West Truck Confirmed for the TDS Fall Workshop," Oct. 23-25, 2015. Here's why Safari West our way is so much fun... If you want a reservation form, visit TDS Workshops Page and use the Send Me Info form. This workshop is listed in the popup menu.
Story #4 - "5 Father's Day Gift Ideas"
Virtual Camera Club News
The SizzlPix Challenge
For a sensational surprise gift, or for yourself, pick out your favorite image, and order the spectacular new 5k Ultra High Definition SizzlPix at the same prices, unchanged in 5 years. If you don't agree, it's better than any print you've ever had, return it for a full refund.
They'll send Digital Story listeners and readers a free mini-proof before production; just put "proof first, TDS" in the comment space on the SizzlPix order page.
Bargain Page for Paper
Did you know that Red River Paper has a Discounts and Clearance page? Ink, paper, greeting card stock, all at big savings.
Thanks to everyone who recently reviewed the TDS Podcast in iTunes!
BTW: If you're ordering through B&H or Amazon, please click on the respective ad tile under the Products header in the box half way down the 2nd column on thedigitalstory.com. That helps support the site.
Download the Show - MP3 Version
In addition to subscribing in iTunes, you can also download the podcast file here (30 minutes - MP3 version). You can support this podcast by purchasing the TDS iPhone App for only $2.99 from the Apple App Store.
More Ways to Participate
Want to share photos and talk with other members in our virtual camera club? Check out our Flickr Public Group. And from those images, I choose the TDS Member Photo of the Day.
Podcast Sponsors
lynda.com - Learn lighting, portraiture, Photoshop skills, and more from expert-taught videos at lynda.com/thedigitalstory.
Red River Paper -- Keep up with the world of inkjet printing, and win free paper, by liking Red River Paper on Facebook.
SizzlPix! - New 5k Ultra High Definition SizzlPix output for your photography. You've never seen your imagery look so good. SizzlPix.com.
Want to Comment on this Post?
You can share your thoughts at the TDS Facebook page, where I'll post this story for discussion.