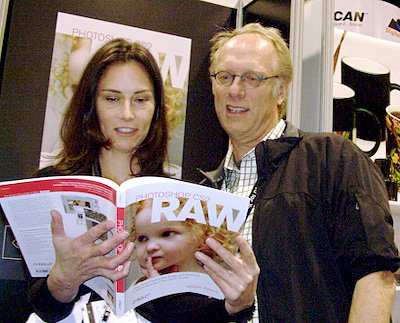 Have you ever wondered about signing a book deal? If so, I have the interview for you. I sat down with the incredible Colleen Wheeler to discuss her work as an editor for O'Reilly Media. Colleen gives us an inside look at the publishing world and tells us a little bit about her projects with famous photographers such as Stephen Johnson, Mikkel Aaland, Eddie Tapp and more. It's a terrific conversation that I'm sure you'll enjoy. She also has some pointers for those thinking about trying to get a publishing contract.
Photo caption: Colleen Wheeler and Mikkel Aaland taking their first peek at Mikkel's "Photoshop CS2 Raw" book at PMA 2006. Photo by Derrick Story
Jan. Photo Assignment
I also mention the January 2007 photo assignment, "Glimmer." You can use this theme literally -- shine faintly with a wavering of light... such as glimmer off water. Or you can go figuratively such as a glimmer of hope. There's lots to work with here. Deadline for submission is Jan. 31. You can read the details on our Submissions page.
Listen to the Podcast
Now that I've piqued your curiosity, it's time to listen to today's audio show titled, "Photography Book Publishing." You can download the podcast here (32 minutes).
Technorati Tags: digital photography, podcast, The Digital Story
---
Sponsor Note...
ExpoDisc Custom White Balance -- Simply Better Color. Simply Better Pictures. Visit www.expodisc.com