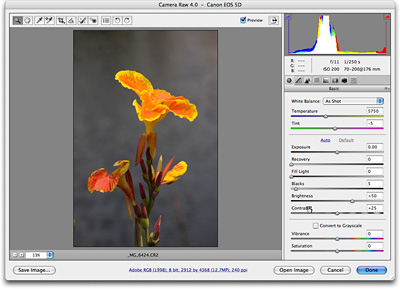 The two new killer features in the Photoshop CS3 package are Adobe Camera Raw 4.0 (ACR) and the Bridge 2.0. With the Bridge, you can browse all of your images, review their metadata, rate, organize, and even add keywords. The Bridge works closely with ACR for processing your RAW, Jpeg, and Tiff files. That's right, ACR 4 can also nondestructively edit Jpegs and Tiffs now too.
In this podcast, I discuss the new features in Adobe Camera Raw 4.0, provide some tips for using it, and even touch on building a photo management workflow with these new applications. Do you really need Lightroom or Aperture? Listen to the show and find out.
Monthly Photo Assignment
I also discuss this month's photo assignment, Slender. You can read more about how to submit on our Submissions page. Deadline for entry is May 31.
Listen to the Podcast
Now that I've piqued your curiosity, it's time to listen to today's audio show titled, "Photoshop CS3 for Photographers." You can download the podcast here (32 minutes). You can also subscribe to the podcast in iTunes
Want to talk with other members in our virtual camera club? Check out our new Flickr Public Group. It's a blast!
Technorati Tags: digital photography, podcast, The Digital Story
---
Sponsor Notes...
Add Magic to Your Slideshows -- FotoMagico presentations are so amazing that your audience will be asking how you did it.