Episode 500 begins with a stroll down memory lane, with the first steps at Podcast 1, then wandering through events over the last decade. This special 1-hour presentation is a retrospective that you don't want to miss. So sit back and join me as we celebrate 10 years The Digital Story.
"After 499 shows, Derrick Story finally gets it right..." A Photographer in Northern California.
"The best Digital Story ever! Santa Rosa Shooter.
Show 001 - Photo Flash Techniques - Oct. 4, 2015
Compact cameras generally use "Auto Flash" as their default mode. And for most flash photography, auto gets the job done. But if you want to improve your photos, to the point where they rival professional images, spend a few minutes exploring the other flash modes on your camera.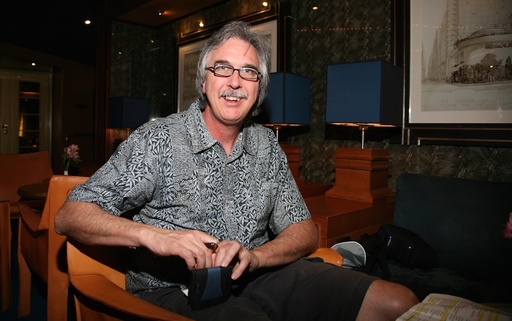 Derrick Story in 2006, ready to record a remote interview for the TDS podcast.
Show 069 - What's in My Bag - Feb. 13, 2007
There's no greater satisfaction than having packed the perfect camera kit for the assignment at hand. In this podcast, I discuss what was in my camera bag as I ventured out to shoot an indoor basketball game. After covering all the items in the picture above, I then solicit readers for what's in their camera bags.
Show 100 -Top Ten $100 Photo Accessories - Sept. 25, 2007
Tony writes: I can't believe it's 100 Digital Story podcasts already! Congratulations! I've been there since the beginning - I think I first heard about your podcast on the Inside Mac Radio podcast. If I remember correctly, Scott interviewed you to debut your podcast.
Anyway, it is by far my favorite podcast. Your topics are interesting, relevant, and inspiring and your delivery truly encourages the sense of community that you like. And don't worry about the production quality of those first few podcasts (I do remember those); the slickest production means nothing if you don't have good content, and good content stands on its own without any gloss. Keep up the great work!
Show 138 - Visit to the Olympic Media Center - Aug. 4, 2008
The Olympic Media Center has over 200 workstations set to help journalists share Olympic moments with the world. In this podcast, I'll provide some insights about this "city within the city," which will also be my home for the next 10 days.
Show 181 - Meet the Olympus E-P1 - June 16, 2009
State of the art technology melded with Olympus Pen tradition, the E-P1 digital camera is a new breed of DSLR featuring HD video, Raw format, micro 4/3rds, in a stylish stainless steel compact body. In this podcast, I walk you through the feature set of this latest innovation by Olympus.
Show 199 - Tom Hogarty on Lightroom 3 beta - Oct. 26, 2009
Tom Hogarty, Lightroom senior product manager, talks about Lightroom beta 3 that was announced on the eve of PhotoPlus Expo in New York.
Show 363 - No Camera for You - Feb. 19, 2013
Derrick, Very funny stuff today, absolutely loved this podcast , not that I don't like them all, I do! As well as really hitting my funny bone, it happened to be very timely to boot, as I had just yesterday finally succumbed to the wicked call of the OMD! And of course this came after weeks and weeks of finding reasons why I shouldn't buy it. It's absolutely hopeless resisting! Take care, and keep up your excellent work. -Brad
Show 434 - End of Aperture - July 1, 2014
Apple Halts Development of iPhoto and Aperture, Migrates Users to New Photos App. Aperture users have three basic options: do nothing, switch to Lightroom, or migrate to Photos. I talk about these options in today's second segment.
Thank you for being with me all these years
I can't tell you how important your support has been for the last decade. I do this show for you, and your feedback and support has fueled its evolution. Thank you so much. Let's do another 500!
Download the Show
In addition to subscribing in iTunes, you can also download the podcast file here (59 minutes). You can support this podcast by purchasing the TDS iPhone App for only $2.99 from the Apple App Store.
Our Podcast Sponsors
lynda.com - Learn lighting, portraiture, Photoshop skills, and more from expert-taught videos at lynda.com/thedigitalstory.
Red River Paper -- Keep up with the world of inkjet printing, and win free paper, by liking Red River Paper on Facebook.
SizzlPix! - New 5k Ultra High Definition SizzlPix output for your photography. You've never seen your imagery look so good. SizzlPix.com.
Zenfolio If you want your site to look as good as your photos, visit www.zenfolio.com today.
Want to Comment on this Post?
You can share your thoughts at the TDS Facebook page, where I'll post this story for discussion.