This is The Digital Story Podcast #544, August 9, 2016. Today's theme is "Optical Threesome." I'm Derrick Story.
Opening Monologue
Since I embraced the philosophy of nimbleosity, I've pared down my lens combinations to groups of three. And unless I'm on a paying gig, that's all I carry. In today's show I share the contents of my five favorite camera kits, featuring a trio of lenses for each. For me, they're the perfect balance of effective photography and traveling light.
Optical Threesome
When I walk out the door prepared for a shoot, I typically have my iPhone, a camera body and three lenses. Now I've thought long and hard about the optics that I pack in my bag. And I've tested many combinations over the years. So I thought you might be interested in the upshot of this research.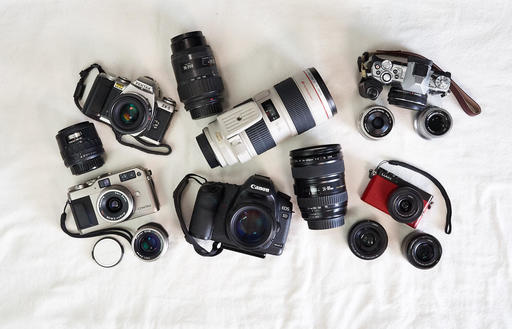 Everyday Kit: Olympus OM-D E-M5 Mark II - 14-42mm EZ zoom, 17mm f/1.8, and 45mm f/1.8

Portrait Assignment Kit: Canon 5D Mark II - 24-105mm f/4 L zoom, 70-200 f/2.8 L zoom, 85mm f/1.8 prime.

Super Nimble Travel Kit: Panasonic GM5 - Lumix 12-32mm zoom, Lumix 35-100mm zoom, and Lumix 20mm f/1.7 prime.

SLR Film Kit: Pentax ZX-5 - 35-80mm Pentax-F zoom, 70-200mm Pentax-F zoom, and 50mm f/1.7 Pentax-F prime.

Rangefinder Film Kit: Contax G1 - Zeiss 28mm f/2.8 and Zeiss 45mm f/2.0 prime lenses./li>
So here's my bottom line: Each of these kits provide me with the tools that I need for the job at hand. Yet, they allow me to move as lightly as possible through the world while I work.
In the News
Robbed Olympics Photographer Spots Thief Posing as Him in Venue via PetaPixel.
News Corp photographer Brett Costello was robbed of $40,000 in camera gear at a cafe in Rio a few days ago. Then yesterday, while covering an event at the Olympics yesterday, Costello spotted the thief pretending to be him..
While at the cafe on Thursday, Costello was approached by a woman who began speaking to him in Portuguese. As he was distracted, her accomplice grabbed his rolling case filled with high-end camera gear and took off in a getaway car.
Fast forward a few days. Yahoo Sports reports that while Costello was entering Sambodromo stadium yesterday for the men's archery competition, he noticed another man entering behind him wearing an official photo vest. But not just any vest: Costello's stolen photo vest.
Now Live! Photos for OS X: Extensions for Local Adjustments
Want to see how easy it is to apply local edits to your images using Editing Extensions? Take a look at my new lynda training, Photos for OS X: Extensions for Local Adjustments.
10 Reasons Why Wildlife Photographers Are Crazy
I enjoyed the article on F-Stoppers titled, 10 Reasons Why Wildlife Photographers Are Crazy. Thought I'd share the 10 reasons with you now, then let you jump over to the article as you have time.
It's been done.
Photo opportunities are rare.
No control over subject.
Wildlife can be dangerous.
The alone time.
The preparation.
Difficult to make a living.
Cost of equipment.
Cost of travel.
Cost of health.
And yet, people still do it...
Updates and Such
Welcome New Photographers to the TDS Inner Circle
I sent all of our Patreon supporters a note this last week. If you didn't see it, be sure to log into your Patreon account. And yes, the season finale of The Nimble Photographer Podcast airs this coming Friday. You can join the TDS Inner Circle by visiting our page at Patreon.com.
And finally, be sure to visit our friends at Red River Paper for all of your inkjet supply needs.
See you next week!
More Ways to Participate
Want to share photos and talk with other members in our virtual camera club? Check out our Flickr Public Group. And from those images, I choose the TDS Member Photo of the Day.
Podcast Sponsors
Red River Paper - Keep up with the world of inkjet printing, and win free paper, by liking Red River Paper on Facebook.
MacPaw Creators of CleanMyMac 3 and other great software for Apple computers. Visit www.macpaw.com today.
Hedge for Mac - The fast solution for moving photos and videos from memory cards to drives, or drives to drives for that matter. Learn more at Hedge for Mac.
The Nimbleosity Report
Do you want to keep up with the best content from The Digital Story and The Nimble Photographer? Sign up for The Nimbleosity Report, and receive highlights twice-a-month in a single page newsletter. Be a part of our community!
Want to Comment on this Post?
You can share your thoughts at the TDS Facebook page, where I'll post this story for discussion.