This is The Digital Story Podcast #833, March 8, 2022. Today's theme is "Inside a Photo Assignment for Hire." I'm Derrick Story.
Opening Monologue
On Saturday morning I climbed in to the ID.4 and plugged the address for the Fire Department Training Center into CarPlay. Fifteen minutes later I was redirected to an overflow parking lot that required a hike back to the event. Undeterred, I grabbed by camera bag, a cap, and shades an headed to the day's assignment. What happened before this moment, and what transpired afterward is the topic of today's TDS Photography Podcast. I hope you enjoy the show.
Digital Photography Podcast 833
Tune-In Via Your Favorite Podcast App!

---

Apple Podcasts -- Spotify Podcasts -- Stitcher

Podbean Podcasts -- Podbay FM -- Tune In
Inside a Photo Assignment for Hire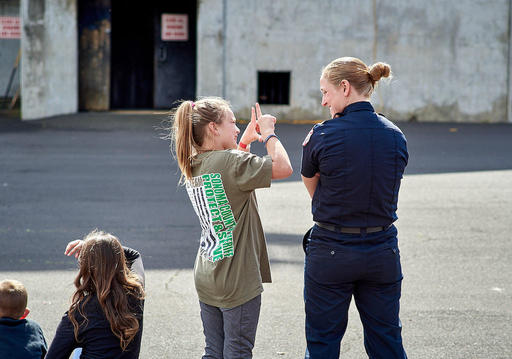 I know that some of you are curious about the photo assignments that I work for clients. It's an important part of my job because they keep me in touch with the demands of real world photography.
So I thought it would be fun to take you through the timeline of an assignment that I just completed.
Before I do that, however, I want to tell you a little bit about this event because I think it's very cool and important.
Women's Public Safety Day will provide young women ages 15 to 20 with a hands-on public safety learning experience. This immersive day will be led by local women from EMS, police, and fire departments sharing what it's like to be a woman in public safety, both on and off duty.
OK, now on to the timeline.
Friday, Feb. 11 - I received an email from the SRJC Communications and Marketing Coordinator stating, "Are you available to cover the Women's Public Safety Day on March 5th? I respond, "Yes, indeed!".

Friday, March 4 - I receive a follow up email with the scheduled events, onsite contact, and suggested shot list. I prepare my camera kit, charge batteries, and made sure everything was ready for the next morning.

Saturday March 5 - I depart for the event with an estimated arrival 15 minutes before my scheduled start. Good think, because the overflow parking set be back 15 minutes.

Now, in the podcast I describe the sequence of events that happened for the next 3 hours.

Sunday, March 6 - I began culling pictures during my first cup of coffee. At this point in the morning, only me and Sylvester the cat are awake. I captured 325 photographs. I whittled down the shoot to 100 images that I thought told the story well.

Monday, March 7 - I individually adjust each of the 100 shots, output them to full size resolution Jpegs, and upload them to the shared Dropbox with the client. I received word a few hours later that everything looked great, and a big Thank You!
One of the big differences that I noticed compared to the other photographers covering the event was that I use much short lenses and get closer to the action.
'Peek Performance' odds: Every Apple event rumor ranked
You can read the entire article on Macworld.com
Apple's first event of 2022 has certainly piqued our curiosity. While we usually have a pretty good idea about what's going to be released at this point--the only real surprise at the "Spring Loaded" event was Apple Card Family--Apple has done a good job keeping its "Peek Performance" event under wraps. So if you're playing along, here's what we're most likely to see on Tuesday.
iPhone SE (A15 chip; 5G connectivity): 100%
iPad Air (A15 chip; 5G connectivity): 95%
M1 Pro/M1 Max Mac mini (M1 Pro/M1 Max model to replace current Intel version): 75%
M2 Processor (the oldest M1 Macs are nearly 16 months old): 50%
MacBook Air (if M2 processor is announced): 45%
Standalone Display (27-inch, cheaper than current Pro display): 40%
13-inch MacBook Pro (with M2 chip): 30%
iPad Pro (with M2 chip): 30%
iMac Pro (27" version): 20%
Mac Pro: 15%
The 2022 TDS Workshop Season
We have great events lined up for this year, and there are a few more coming. Here's a recap of what we have so far:
April 2022 - Humboldt Redwoods Workshop (physical)
May 2022 - Infrared Photography Workshop (online event)
August 2022 - Ultimate B&W Photography Workshop (online)
Sept. 2022 - Eastern Sierra Photo Workshop (physical)
Nov. 2022 - Oregon Coast Photography Workshop (physical)
You can learn more about all of these events and register by visiting TheNimblePhotographer.com.
The New OM-1: Impressed by the Specs? Here's my Hands-on Review of the Camera.
You can read the entire article on FStoppers.com
Author Ivor Rackham wrote:
I first trained in an engineering background. Consequently, I have always had a penchant for well-made precision instruments. When I lifted this camera from the box, my very first realization of the OM System OM-1 was how well it fits that bill; it looks and feels like a high-quality device, making it a pleasure to hold and use.
What He Liked
Firstly, I enjoy learning, and there is a lot to learn with the OM-1.
Next, there is a big leap forward in image quality; the increased dynamic range and operating speeds are noticeable in the real world, thanks to that new sensor and powerful processor that enable all the unique features mentioned above.
Third, I am glad that OMDS chose to listen to the Micro Four Thirds users and make improvements where they were needed, and not chase more megapixels, as dictated by the big brand marketing departments. I don't need bigger files.
Then there is the menu improvement. That will make it much more accessible for new users. It's color-coded and the sub-menu names are better. Although a different layout from its predecessors - I liked the previous version - it is still familiar enough to not seem completely alien. Furthermore, the four custom modes, and the customizable "My Menu" means that delving into the depths of the menu system is usually unnecessary. What is more, if something is grayed out, on the press of the Ok button, a dialog box can tell you why.
Fifth, I find the camera comfortable to use, and the buttons easy to reach, and its name is much less of a mouthful than its predecessors. It also feels really well made too. Plus that new EVF is crystal clear.
Sixth, the computational photography features are useful in the real world, and not gimmicks like fake bokeh. This is a serious photographer's camera.
What Could Be Improved
There is only one area of improvement that struck me: I wish the removable-battery charger had been included in the box. The USB-C charger and in-body charging is great, but I prefer to have my camera safely stored while I charge batteries. I also try to avoid long-term use of sockets and body covers to prevent wear. Plus, in some circumstances, I want to charge one battery while I am using the other. Consequently, the additional battery charger is on my shopping list. But that's a tiny gripe; I know photographers who are happy with in-body charging.
Virtual Camera Club News
Inner Circle Members: A big thanks to those who support our podcast and our efforts!
My Writing on Medium.com: I now have 51 published articles on Medium.com. And if you haven't visited the site, and enjoy good writing on a variety of topics, I suggest that you may want to take a look. You can just go to the home page and enter "Derrick Story" in the search field. And if you like what you read, then follow me!
The New Donation Kit for Carefree Shipping of Found Film Cameras - If you've discovered a film camera that's no longer being used, our new Donation Kit makes it easy to pack and ship. Just visit the Contact Form on thenimblephotographer.com, click the box next to Donating a Film Camera, and let me know what you have. In your note, be sure to include your shipping address.
Affiliate Links - The links to some products in this podcast contain an affiliate code that credits The Digital Story for any purchases made from B&H Photo and Amazon via that click-through. Depending on the purchase, we may receive some financial compensation.
Red River Paper - And finally, be sure to visit our friends at Red River Paper for all of your inkjet supply needs.
See you next week!
You can share your thoughts at the TDS Facebook page, where I'll post this story for discussion.