This is The Digital Story Podcast #773, Jan. 12, 2021. Today's theme is "Kingston's Workflow Station a Dream for Photographers." I'm Derrick Story.
Opening Monologue
My annual pilgrimage to Las Vegas for the CES show was shortened to a stroll across the room where I watched the product unveilings on my computer. Fortunately some vendors had the foresight to send us samples ahead of the show, and my hands-down favorite so far is the Kingston Workflow Station they just announced. I'm now going to introduce it to you as well. I hope you enjoy the show.
Kingston's Workflow Station a Dream for Photographers
Kingston's Workflow Station and Readers give users the freedom to create and customize a file offload setup that fits their needs allowing them to transfer video, photos, and audio from multiple sources at once.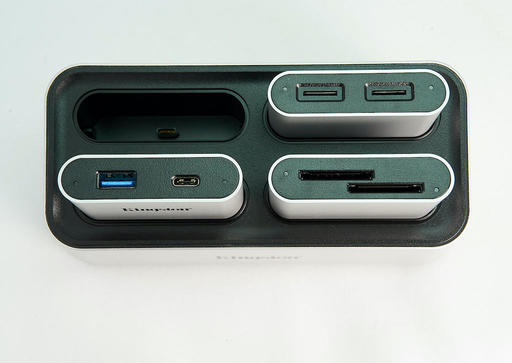 Whether on a 4K/8K multi-cam shoot with portable audio recorders or filming B-Roll with drones and GoPros, with the customizable Workflow Station Dock you can simultaneously connect the USB miniHub, SD or microSD readers that the shoot requires to transfer footage quickly. Workflow Readers can also be used standalone by connecting to a laptop via the included USB-C cable giving users the flexibility to have their workflow on-the-go.
Some of the highlights of this new device include:
Offload Files Quicker - Transfer video, photos, and audio from multiple sources at once.

Flexible Workflow System - Use only the hub and readers that fit your setup.

Portable Versatility Use the card readers on-the-go via their included USB-C.

Incredible Performance - Workflow Station products support USB 3.2 speeds which get you to editing quicker.
You'll need at least Windows 8 or macOS 10.10 for compatibility. I tested the dock with macOS Catalina, and it worked fantastic.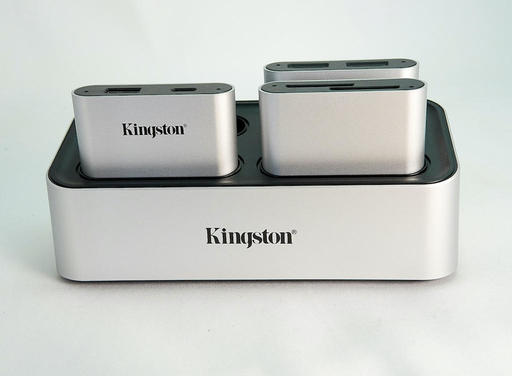 You can order the Kingston Workflow Station now for $135 that includes the Dock, a USB miniHub, power adapter, and cords. The SD Card Reader miniHub supports 2 UHS-II SD cards and can be used by itself or in the Dock, and is available for $36. Same price for the Micro SD card reader miniHub that also supports 2 UHS-II microSD cards.
Waiting List for a Second Session of Integrating iPhone into a Pro Photography Workflow Online Workshop
The first session of "Integrating iPhone into a Pro Photography Workflow" Online Workshop has sold out. But I've created a wait list for a second session that would begin in mid-February. If we get enough interest for a second session, I will open registration for it.
If you're interested in attending, just go to The Nimble Photographer and click on Workshops. There's no charge to get on the wait list.
In this workshop you will explore:
Working with just one digital camera and an iPhone.
Taking advantage of a versatile fast prime lens on your digital camera and using iPhone for additional focal lengths.
Perfecting a RAW workflow with the iPhone.
Leveraging Apple ProRAW for those who have iPhone 12 Pro.
Building a kit that allows you to travel lighter without compromising capability.
Post processing tips and techniques using Photos on Mac, iPad, and iPhone.
Investigating other software and workflows to augment your imaging prowess.
Exposure X6 software review: Faster than ever and even more capable
You can read the article here on DP Review.
Back in 2020, I reviewed Exposure Software's Exposure X5 and discovered much to love. A rival to the likes of Lightroom and Capture One, I found Exposure X5 to be blazingly fast and quite capable.
With a pretty affordable price tag and no subscription fees, it made for a very credible alternative to its more established rivals, especially for photographers on a budget. Now the follow-up, Exposure X6, is here, and I've tested all of its new features to see how they stack up.
Offers an equivalent to most of Lightroom's core features with no subscription and an affordable price tag.
Even better performance than its already-swift predecessor.
Loads of controls and a ton of quick-and-easy presets.
More auto controls get you in the ballpark quickly.
Noise reduction is now tuned to your camera model.
Less broad Raw support than its Adobe rival.
Available immediately, Exposure X6 can be purchased from Exposure Software for $129, which is an increase of $10 over the previous version. A free 30-day trial version can be obtained here. Those who purchased Exposure X5 after July 15, 2020 can upgrade for free, while earlier customers can upgrade for $89. A bundle including Exposure Software's Blow Up and Snap Art tools is priced at $149
The New Donation Kit for Carefree Shipping of Found Film Cameras
We have more time around the house than ever. And you finally dove into that bedroom closet that's been begging for some organization.
If you found a film camera that you're no longer using, our new Donation Kit makes it easy to pack and ship. Just visit the Contact Form on thenimblephotographer.com, click the box next to Donating a Film Camera, and let me know what you have. In your note, be sure to include your shipping address.
If it's a camera we can use for the shop, I'll send you a Donation Kit that includes a USPS Priority Mail shipping box and prepaid label. All you have to do is tape it up, insert the camera, and add the label. USPS will pick up your shipment from the front door of your house during their regular mail delivery. It's that simple!
Your donation help get analog gear in the hands of aspiring fine art photographers, and the proceeds help support this podcast.
More CES 2021 Coverage
The show is just getting started today, but by the end of this week we will know all of the photography-related announcements. I share my favorites on next week's podcast.
One that did leak out today was the Sony Airpeak Drone that can carry an Alpha camera. That sounds pretty fun!
Updates and Such
Inner Circle Members: A big thanks to those who support our podcast and our efforts!
Affiliate Links - The links to some products in this podcast contain an affiliate code that credits The Digital Story for any purchases made from B&H Photo and Amazon via that click-through. Depending on the purchase, we may receive some financial compensation.
And finally, be sure to visit our friends at Red River Paper for all of your inkjet supply needs.
See you next week!
Product Links and Comments
There are product links in this article that contain affiliate tags. In some cases, depending on the product, The Digital Story may receive compensation if you purchase a product via one of those links. There is no additional cost to you.
You can share your thoughts at the TDS Facebook page, where I'll post this story for discussion.