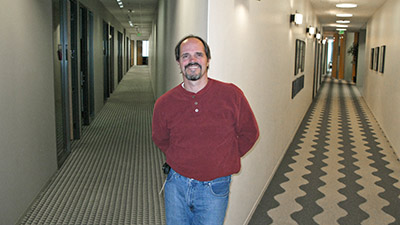 Adobe Photoshop Elements 6 walks a tightrope that balances cutting edge imaging technology with ease of use. It is designed for hobbyist photographers who want to manage, edit, and output pictures from their digital cameras. Elements 6 is the Windows version of the application. Photoshop Elements for the Mac will be out early next year.
My quest to learn more about this intriguing application led me to the doorstep of Mark Dahm, Adobe Senior Product Manager for Photoshop Elements. As you can imagine, Mark is passionate about this software, and he did a great job of highlighting its features and explaining many of Adobe's decisions around this product. I think both Mac and Windows users will enjoy what Mark has to say.
Photo of Mark Dahm by Derrick Story, taken on the 11th Floor of the West Tower in Adobe Headquarters in San Jose, CA. Captured with a Canon G9 in Wide View Jpeg mode using Face Detection for focus and flash exposure, processed in ACR 4.0.
Monthly Photo Assignment
Close Up is this month's photo assignment. Time to find that close up button on your compact or break out the macro lens for your DSLR. October is get close month, real close. You can read more about how to submit on our Submissions page. Deadline for entry is Oct. 31.
Listen to the Podcast
Now that I've piqued your curiosity, it's time to listen to today's audio show titled, "Mark Dahm on Photoshop Elements 6." You can download the podcast here (33 minutes). You can also subscribe to the podcast in iTunes
The Digital Story Podcasts are available for direct download from Apple iPhones. I've created a special mobile download page here. Just load the page in Safari, browse the podcast line-up, and click on the one you want to listen to.
Want to share photos and talk with other members in our virtual camera club? Check out our new Flickr Public Group. It's a blast!
Have you looked at the Park by the Numbers Camera Phone Project? If you have a camera phone, you've got to check this out.

Events! See the TDS Event Calendar for photography workshops, speaking engagements, and trade show appearances.
---
Technorati Tags: digital photography, podcast, The Digital Story
---
Sponsor Notes...
Add Magic to Your Slideshows -- FotoMagico presentations are so amazing that your audience will be asking how you did it.