This is The Digital Story Podcast #907, August 8, 2023. Today's theme is "5 Photography Books that I Recommend." I'm Derrick Story.
Opening Monologue
Photography books have room in our lives just like inkjet prints. Studying a photographer's work by flipping through the pages shows a depth that we just don't get from a tablet display or even a laptop screen. And I have five recommendations that prove this point beautifully. Learn more on today's TDS Photography Podcast. I hope you enjoy the show.
Digital Photography Podcast 907
Tune-In Via Your Favorite Podcast App!

---

Apple Podcasts -- Spotify Podcasts -- Stitcher

Podbean Podcasts -- Podbay FM -- Tune In
5 Photography Books that I Recommend
I'm sitting on the couch with a freshly brewed cup of coffee. My camera is in the messenger bag next to me, and I feel like I haven't shot anything interesting lately. I take a sip of coffee, then reach for one of my photo books from a small stack perched on the ottoman.
I flip through the pages, forward, backwards, and forward again. I land on a 1979 portrait of Blondie with her band and just let the book stay open there. I take another sip and start to notice things. Blondie's red jumpsuit against the all-black dress of her band. But wait, one of the band members off to the right has just a hint of that red on his jacket. How cool is that?
I take another sip of coffee. Her hair seems to be blowing. But not anyone else's. It looks great. How did that happen?
Her pose is outstanding. She looks so fit and beautiful and confident. Even if I didn't know a note of her music, I would be impressed with this woman.
My coffee mug is now empty. I don't remember the last sip. I don't need to see any more pages right now. I need to go take some pictures. I close the book, sling the messenger bag over my shoulder, and head out to the car.
The Books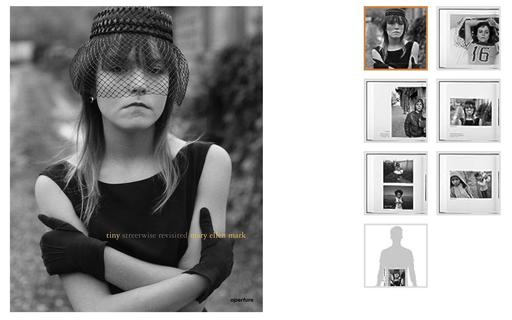 This selection of 5 varies from inspiration to perspiration. We need both in photography. Let's start with inspiration.
Happy reading!
The Olympus Tough TG-6 Camera Has Been Discontinued
You can read the entire article on Petapixel.com
The Olympus, now OM System, Tough TG-6 is no longer being actively produced and is no longer avaiable from OM System in Japan. The popular waterproof point-and-shoot is still available in the United States and it is unlikely that this will be the end for the product line.
The TG-6 is one of the most rugged cameras currently available. The $500 camera is waterproof down to 15 meters (50 feet), shockproof to falls of up to 2.1 meters (seven feet) high, can survive crushing pressure of up to 100 kilograms (220 pounds) of force, and can withstand temperatures as low as -10 degrees Celsius. It is also dust-proof rated as IPX6. The front lens is sealed with double-pane glass to prevent fogging and condensation as well, making it one of the most robust camera bodies on the market.
Even though the camera might be on its way out, it is highly unlikely that OM System lets this system go the way of the dodo. Not only is it considered one of the best choices for underwater photography, OM System is still creating new products that actively build on the system.
Earlier this year, the company announced a new housing for the TG-6 that is designed for the medical space and can be autoclaved, meaning it can be fully sanitized after use. That casing was even mainly focused on use in Japan, so it would be even more unusual for the company to discontinue the line there now.
With all that in mind, expect to continue to find the TG-6 available to purchase around the world until stock on store shelves is depleted. Additionally, it would not be too far outside the realm of possibility to expect OM System to announce a new TG-7 camera sometime soon that uses the same body design and button layout of the TG-6.
Are we getting a Fujifilm GFX 100 II? Rumors suggest it's coming this year
You can read the entire article on DigitalCameraWorld.com
Is a Fujifilm GFX 100 II on the way? After a quiet year for GFX, rumors suggest that we could be seeing a successor to Fujifilm's original 100MP camera later this year.
It's fair to say that Fujifilm's GFX lineup of medium format cameras has opened new possibilities for photographers to get into larger format photography without the exorbitant prices of other brands, and has left a lot of photographers fervently awaiting what might be coming next.
The last GFX release was the Fujifilm GFX 50S II in September 2021 and, with no new GFX cameras coming last year, we are overdue a new camera to keep the system fresh and up-to-date. Fujifilm has made huge strides in the APS-C realm with the excellent Fujifilm X-H2S and Fujifilm X-T5, seeing big leaps in image quality, autofocus, image stabilization, and speed, and we can't wait to see how these can filter into the GFX system.
The latest rumors point to a new replacement for the Fujifilm GFX 100. Following its release in June 2019, the Fujifilm GFX 100S was launched in February 2021 and managed to squeeze the excellent 102MP medium format sensor into a body roughly the size of one of the best full-frame cameras.
Since the GFX 100S' release, Fujifilm has jumped forward with its processor tech, with the new X-Processor 5 found in its latest APS-C cameras being able to handle better autofocus, including deep-learning subject recognition and tracking, as well as higher video rates, and faster shooting speeds.
So it is almost inconceivable that Fujifilm wouldn't be keen to upgrade the GFX range with this processor, as well as a host of other improvements.
Threads to get web version and advanced search in coming weeks
You can read the entire article on 9to5mac.com
It's been a month since the official launch of Threads, Meta's new microblogging social network. Since then, the platform has been getting numerous updates with new features like built-in translation and a chronological feed that only shows content from accounts you follow. And soon, Threads will get a web version and advanced search.
The news comes from Meta co-founder Mark Zuckerberg, who confirmed that both a web version and advanced search are coming to Threads "in the next few weeks." Currently, the only way to access Threads is through its mobile app, so one of the most requested features by its users is a web version that works on desktop platforms.
Last week, Instagram head Adam Mosseri had already confirmed that the team behind Threads has been working on a web version of the platform. For a brief moment, Threads user profiles on the web were showing Reply buttons. While clicking on the buttons did nothing, it was a major hint that the web version would be coming soon.
Threads also lacks an advanced search feature. The only thing users can search for now is other accounts, with no way to search for specific posts or words. This should also be addressed soon.
You can find me on Threads as @derrickstory
Virtual Camera Club News
The Nimble Photographer Newsletter is now publishing every Thursday. Readers will enjoy a variety of content spanning from short photo essays, to commentary on weekly events, to reviews of the latest and coolest photo gear.
TDS Workshops! - You can sign up for available workshops by visiting The Nimble Photographer. Inner Circle Members receive a 10-percent discount on all events.
Inner Circle Members: A big thanks to those who support our podcast and our efforts! We are having a blast at our new Inner Circle hangout, the private group I've set up at DerrickStoryOnline. We'd love it if you join us. You can become an Inner Circle Member by signing up at our Patreon site. You will automatically be added to the new hangout.
Great Photography Articles on Live View - If you check out our publication and appreciate what you see, be sure to follow us and clap for those authors. You can find us at medium.com/live-view.
If you're interested in writing for Live View, drop me a line at dstory@gmail.com.
The New Donation Kit for Carefree Shipping of Found Film Cameras - If you've discovered a film camera that's no longer being used, our new Donation Kit makes it easy to pack and ship. Just visit the Contact Form on thenimblephotographer.com, click the box next to Donating a Film Camera, and let me know what you have. In your note, be sure to include your shipping address.
Affiliate Links - The links to some products in this podcast contain an affiliate code that credits The Digital Story for any purchases made from B&H Photo and Amazon via that click-through. Depending on the purchase, we may receive some financial compensation.
Red River Paper - And finally, be sure to visit our friends at Red River Paper for all of your inkjet supply needs.
See you next week!
You can share your thoughts at the TDS Facebook page, where I'll post this story for discussion.