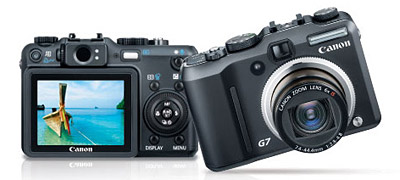 Among Canon's latest round of pre-Photokina announcements, they debuted the new Canon PowerShot G7. Its impressive features include: 10 MP sensor, 6X optical zoom (35-200mm equiv.), image stabilizer, 2.5" LCD, hot shoe, DIGIC III processor, custom white balance setting, and ISO 1600.
What's missing? No RAW mode and the viewfinder is mounted to the back of the camera no longer swinging out as in earlier G models. If you want RAW on a Canon camera, you have to move up to the Digital Rebel. I'd better understand this move if Canon were having a hard time selling Rebels. But that ain't the case. The PowerShot G7 is a sophisticated camera that should include RAW.
The Canon G7 should be available in October '06. No price was announced.
Technorati Tags: digital photography, The Digital Story