Adobe Carousel is a software system that enables you to access, manage, and adjust your pictures on a Mac and iOS devices such as the iPhone and iPad. Regardless of where you work on a picture, the images are automatically updated across all devices.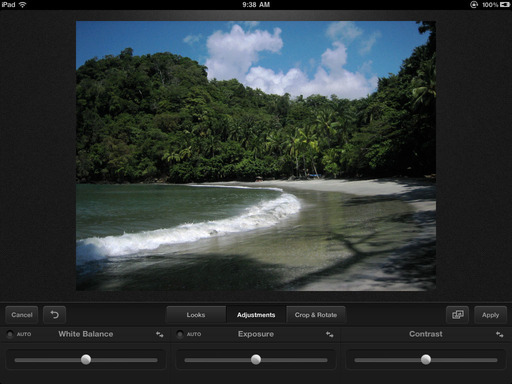 Adobe Carousel on an iPad
Carousel is offered as a subscription service. To get started, download the application from the iTunes App Store for iOS, and the Mac App Store for your computer. (You'll need Lion to use the service on a Mac.) Once you've made the connections, you have access to the images regardless of which device you're using.
Basic image editing tools are included. If you crop a picture on the iPad, for example, the edit is reflected on the iPhone and Mac too. You can share your Carousels with others (up to 5 people), even if they don't subscribe.
The app will work on iPhone 3GS, iPhone 4, all versions of the iPad, and the iPod Touch 4G. To get started, Adobe is offering a 30-day complimentary subscription. After that, the introductory cost will be $5.99 a month, or $59.99 a year.
I'll report more once I've had a chance to test it.
---
The Digital Story on Facebook -- discussion, outstanding images from the TDS community, and inside information. Join our celebration of great photography!
---