I continue to advocate that photographers have a camera with them when they walk out the door. It can be any type of device, as long as it's capable of taking the types of pictures that fit your style.
As an example of this, here's a self-portrait I shot while waiting for a train in Munich with my friend Oliver. I had a Canon S90
in my pocket (which has been recently updated to the Canon S95
), and when I looked up, I saw this great reflective surface on the roof. Using the S90, I was able to frame one of my favorite portraits of Oliver and me in Munich.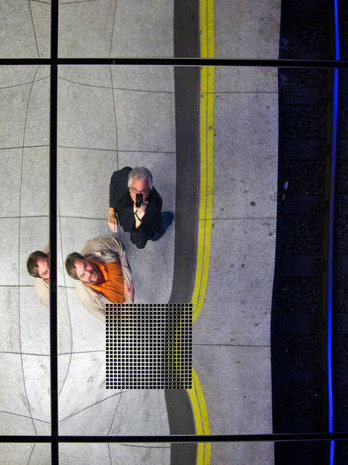 Self-Portrait in Munich. Click on image for a larger version. Photo by Derrick Story with a Canon S90.
The thing is, whether I'm in Munich, San Francisco, New York, or at home in Santa Rosa, I have either the Canon S90
or the Olympus E-P1 1 with the 17mm f/2.8 Lens
in my pocket or in my messenger bag that also holds the iPad.
When we had a recent discussion about this on the TWiP podcast, some folks commented that they didn't want to be in "photographer mode" all of the time. I agree. There are many moments in life that I just want to enjoy without a camera in my hand. The thing is, there are also other moments when I really want to take pictures. And I don't know ahead of time what the day has in store.
So I stand by my recommendation for photographers of all types. Have a camera with you, even if it's your smartphone. Because you don't know when a wonderful opportunity will present itself.
---