FotoMagico was just honored with "Best Mac OS X Leopard Graphics and Media Application Runner-up" at the prestigious Apple Design Awards that recognize technical excellence and outstanding achievement in Mac OS X software design and development. This was FotoMagico's second trip to the podium. In 2006 it received the "Best Mac OS X User Experience Runner-up" award.
In its current version 2.2, FotoMagico supports powerful Mac OS X Leopard technologies such as Quick Look and iChat Theater, and it sports a brand-new Sharing Assistant that makes it easy to produce stunning slideshows optimized for DVD, iPod, iPhone, Apple TV and other media devices.
Boinx Software, the creators of FotoMagico, are longtime sponsors of The Digital Story. I'm thrilled for them (once again) for this award. Well deserved indeed!
---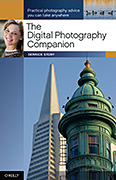 Now Available! The Digital Photography Companion. The official guide for The Digital Story Virtual Camera Club.
25 handy and informative tables for quick reference.
Metadata listings for every photo in the book
Dedicated chapter on making printing easy.
Photo management software guide.
Many, many inside tips gleaned from years of experience.
Comprehensive (214 pages), yet fits easily in camera bag.
---
Technorati Tags: digital photography, Technology, The Digital Story