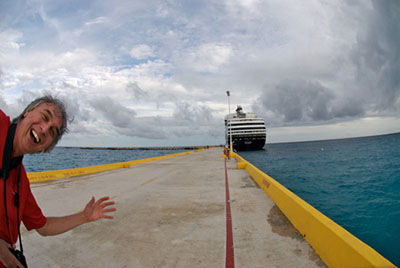 We've talked about extreme glass before on The Digital Story. In this article Ben Long says, "If you have a digital SLR, but haven't yet explored the world of unusual lenses, you're in for an eye-opening treat."
Ben then takes you on a tour of fast, wide, fisheye, lensbaby, and tilting lenses, with photo examples for all. He captured this shot of me in Mexico with a Nikon 10mm lens, a wonderful piece of glass he discusses in the article.
On a side note, Ben is teaching the Aperture Power Tools Workshop with me at Macworld SF in January. And he knows his stuff...
Technorati Tags: digital photography, equipment, Technology, The Digital Story, Lens