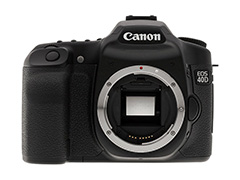 One of the first visual tip-offs that indicate if a reviewer likes a camera is how the list of "pros" stacks up against the "cons." Two recent in-depth reviews of the Canon EOS 40D were published -- by Imaging Resource and by DP Review, and the pros and cons list were more lopsided than the first game of the World Series (Boston Red Sox 13, Colorado Rockies 1). DP Review's cons list, as short as it was, still seemed to be a stretch to find anything negative.
In his conclusion, Phil Askey sums up: "When I first started using the EOS 40D a simple description came to mind: that this is a 'well sorted camera'. It feels well rounded - the result of years of evolutionary improvement, it delivers in almost every area, and it inspires confidence. From a usability point of view the viewfinder feels larger, ergonomics are good, the user interface is clear and easy to learn, there are no in-use performance issues, metering and auto-focus show good consistency and the results speak for themselves; colorful (yet accurate) detailed images with low noise even at high sensitivities." (From DP Review).
Imaging Resource echos this sentiment: "The new Canon 40D offers a very mature set of features in a camera that's priced lower than its predecessors. It also offers as much value and image quality as competing designs that are hundreds of dollars more. Canon's pro SLR designs have always been conservative, and they didn't try to leap-frog the market with a higher resolution sensor; instead they stuck to a 10-megapixel sensor size that would deliver the quality that Canon fans are used to," says Shawn Barnett, Dave Etchells, and Siegfried Weidelich of Imaging Resource.
These days, when I think DSLR, I want a camera that produces outstanding "photographic" images, that is durable, and is a pleasure to use. The Canon 40D fits that bill nicely. Yes, the reviews are in, and the the 40D is a hit.
Technorati Tags: digital photography, equipment, The Digital Story