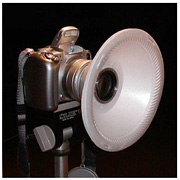 Virtual camera club member Sarah Kim discovered the CCRRFDv2 by Photophool while browsing flickr. This device helps you evenly illuminate subjects when using macro mode with a Canon S2. The DIY device consists of three plastic foam cereal bowls stapled together with holes cut in the bottom to slip-fit on the lens barrel, and it delivers shadowless lighting in supermacro mode.
Photophool has updated the instructions for building this handy device. You might want to take a look at what's going on here, and think about ways that you could apply the technique to your camera and photography. If you get some cool shots, or discover a clever variation on this theme, be sure to drop me a line.
Sarah has already put her diffuser to work capturing this close-up of her husband's hand while working. Thanks for the tip Sarah!
Photo of the diffuser by Photophool, who has lots of other interesting stuff.
Technorati Tags: digital photography, The Digital Story