The Sigma DP1 looks like a stylish compact, but inside it uses the same 14 megapixel FOVEON X3 direct image sensor (2652×1768×3 layers) contained in the Sigma SD14 digital SLR. Coupled with a 16.6mm F4 lens for a wide angle field of view equivalent to 28mm on a 35mm film camera, and RAW mode, the DP1 packs a lot of capture quality in a small package.
It's been interesting to watch this camera evolve, even though it still hasn't been released (we're guessing May of this year). The above picture is the prototype that Sigma displayed last September. The look of the camera has changed quite a bit since then with the addition of a hot shoe, mode dial on top, and more classic rangefinder styling. Here's what Sigma was showing off at PMA.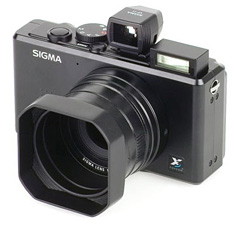 I think the DP1 will be of particular interest to serious photographers committed to another DSLR system such as Canon or Nikon, but who want to work with the FOVEON three layer sensor. The DP1 should be perfect for landscape, street shooting, and working in crowded interiors. I suspect noise levels will be low at high ISOs, plus you have RAW for even more control in post production.
You can learn more about the camera by watching Dave Etchells of Imaging Resource talk to Tom Sobey of Sigma about the DP1 Rangefinder. The YouTube video packs lots of information into just a couple minutes. (BTW: I met Dave on the Panasonic Sunrise Shoot; he's a terrific guy.)
No price has been set yet for the Sigma DP1, but I'm guessing that it will run around $799 US. We'll know for sure when it's released later this spring.
Top photo represents the first prototype that Sigma released in Sept. 2006. The middle photo is what Sigma was showing at PMA. The DP1 has changed considerably since its initial press release.
Technorati Tags: digital photography, The Digital Story