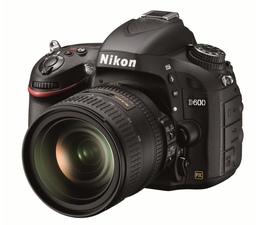 Nikon answers the call for an affordable feature-rich full frame DSLR with the D600 that will sell for $2,100 US body only, or $2,600 with the 24-85mm f/3.5-4.5G ED VR lens.
It has many of the specs you'd expect, such as 24 MPs, 5.5 fps, full HD movie capture, 39 point AF system, 921,000 dot LCD, and maximum 25600 ISO. Then it has a nice surprise up its sleeve: an optional Wi-Fi module allowing the D600 to be controlled remotely from an Android or iOS device.
There are a couple limitations. Flash sync maxs out at 1/200th and there's no external microphone jack.
But if you have been waiting for a full frame Nikon body that won't bust the credit card, you can preorder the D600 today.
---
Live Photokina Coverage
I'll be on the floor at Photokina, in Cologne, Germany starting on Tuesday, Sept. 18. You can follow via Twitter and Instagram. Wrap-ups will be published here on The Digital Story.