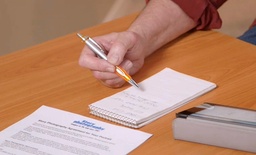 Taking a good picture is important. But so is the preparation before the shoot and the delivery afterward. In this movie, Understanding the business of senior portraits, I address those little details that are important for the business side of the project.
Even if you're not a professional photographer, that doesn't mean that you can't act like one. Take a look at this movie, and think about how you can apply this to your portrait work.
Learn More About the Art and Business of Portraiture
In my lynda.com title, Photographing High School Senior Portraits, I'll show you how to organize, photograph, and deliver great images for fun or profit. Take a look at the free movies and see for yourself.
Want to Comment on this Post?
You can share your thoughts at the TDS Facebook page, where I'll post this story for discussion.