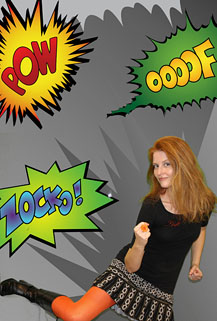 The folks over at PhotoBasics.net have created a green screen kit for only $69.50 US that simplifies the process to three steps: shoot, upload, and create. With any digital camera, you shoot a subject against the included 5'x7' green screen background, then upload the image to your Mac or Windows computer, and finally, apply any of the 100 included digital backgrounds (such as the one shown here), or one of your own. The software takes over from there, merging your subject and background.
I discovered PhotoBasics.net while exploring the exhibit hall at the CHA Show in Anaheim, CA. They had a sample green screen set up, as shown here, with a variety of props. You could have your picture taken, choose the backdrop, and they would show you how the process worked. Here you can see Marketing Specialist Amber McCoy holding the green screen kit in front of the backdrop (click image to enlarge). She used a MacPro to meld the images, and it literally only took seconds.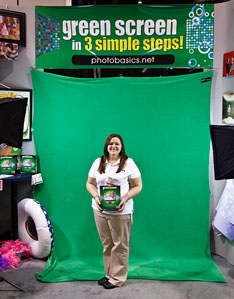 The $69.50 kit includes the 5'x7' green background, 2 background hooks, PhotoKey 2 Lite Software (Mac or Windows), and 100 digital backgrounds. But the real power is that it lets you use your images for backgrounds too.
The Mac version requires Mac OS X 10.4 or later, but works on Intel or PowerPC computers. The PC version only requires Windows XP with Service Pack 2 (or later). The software supports JPG, PNG and TIF file formats for importing and saving. You do have some adjustments to fine tune the image, and you can output to digital or print.
I chose this image of the woman with red hair to illustrate how well the software works without any additional touch up. I see just a little green peeking through around the hair, which I could fix in about 2 minutes. Most shots that I looked at required no touch up at all.
If you want to dig into the details, you can download an instructional PDF. If you're ready to buy, just hop over to B&H Photo where it's available for $69.50.
---
-
---