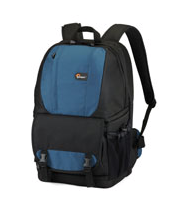 One of the advantages to being the Photography Evangelist for Lowepro, is that I can test any bag that I want. I've had my eye on the Fastpack 250, so I loaded one up for recent trips to New York City and Washington DC. Since I'm traveling from California (and spend a lot of time walking around these cities once I arrive), this has been an excellent introduction to this backpack-styled bag.
As Time Magazine recently pointed out when they named the Fastpack one of the best 25 travel gadgets of 2009, this bag holds a lot of gear, but fits nicely under airline seats and in overhead compartments. Its wide shoulder straps, padded mesh back, and comfy waistband have enabled me to carry all of my gear, all day, without fatigue. The top handle makes it easy to pick up the bag or pull it out of a storage compartment. In fact, I won't use a bag that doesn't have this feature.
For my urban road trips, I carry a MacBook in laptop pocket (that holds up the 15.4" computer), Canon 5D Mark II body with 24-105mm L lens attached, 70-200mm f/4 L zoom, Speedlite 270EX flash, Canon 85mm f/1.8 lens, Olympus E-P1 with both 14-42mm and 17mm lenses, two external hard drives, M-Audio digital recorder, Audio Technica external mic, cables, accessories, and personal items such as toothbrush, etc. The laptop has its own protected area behind the backpad that's easily accessible via a long zipper that runs the length of the bag. This is particularly nice when going through airport security and I need to remove the computer in a hurry. The Canon 5D Mark II can be quickly reached through a side opening. I found that I can slide the Fastpack off my right shoulder, open the side access, and pull out the Canon in just a few seconds -- terrific for street shooting.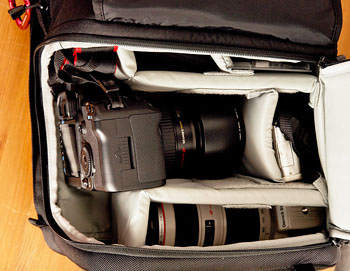 I organize the bag by keeping the camera gear in the bottom compartment with the side access, and stowing my personal gear in the top compartments. Speaking of the bottom compartment, if you unbuckel the security flap that covers the bottom of the bag, you can unzip the entire front area for easy access and organization, as shown in this illustration (click on photo to enlarge it). This also reveals another zippered pocket that's handy for documents. On the other side of the bag is a mesh pocket that's perfect for water bottles, or anything else that you want to grab quickly.
My favorite color combination is the arctic blue and black available at Amazon for $89.95. I was telling a friend today who also has a Fastpack, that I really should be testing other bags too. Problem is, I like this one so much that I don't want to leave it behind.