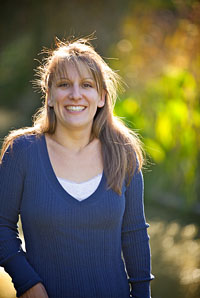 What is the simple photo shoot? I define it as one camera, one lens, and one accessory. That's all you take. The ginormous bag of lenses and modifiers stay home as you go "MacGyver" and improvise with the equipment that you have in hand.
In this week's show I discuss how important the simple photo shoot is, and detail my latest one, a portrait shoot with Bonnie at the park. My three pieces of equipment? 1) Canon 5D Mark II 2) Canon 70-200mm f/2.8 L IS zoom lens. 3) Canon 270EX compact flash. Listen to how I used these items during a relaxing photo session.
"Bonnie in the Park" by Derrick Story Captured with a Canon 5D Mark II and a 70-200mm f/2.8 lens. Click on image to zoom. See the entire gallery on The Digital Story Flickr page.
Listen to the Podcast
You can also download the podcast here (29 minutes). Or better yet, subscribe to the podcast in iTunes.
Monthly Photo Assignment
Feet is the Oct. 2009 Photo Assignment. Shoes, bare feet, paws, manmade objects, my gosh there are so many possibilities. You can read more about how to submit on our Member Participation page. Deadline for entry is Oct. 31, 2009.
More Ways to Participate
Want to share photos and talk with other members in our virtual camera club? Check out our Flickr Public Group. It's a blast!
---
-
---
Podcast Sponsors
SiteGrinder lets you take ownership of your websites. Effortlessly output pages right from Photoshop.
Red River Paper -- Try the $7.99 Sample Kit.
Add Magic to Your Slideshows -- FotoMagico presentations are so amazing that your audience will be asking how you did it.
---
Technorati Tags: digital photography, podcast, technique, Technology, The Digital Story, tips