If you have an Aperture or iPhoto library that you would like to bring in to the Photos for OS X environment, then migration makes a lot of sense.
I recommend that your start with a smaller library to get a feel for the migration process. And there are a few gotchas you should be aware of.
Unless you make the migrated library your "System Library," it won't be connected to iCloud and available across all devices. You can only have one System Library.
It isn't easy to merge libraries. There isn't really a process for this. So if you wanted to combine an existing System Library, with a newly converted library, you'll most likely be disappointed.
You can switch among libraries in Photos for OS X. So you can go back and forth between a System Library and one that has been migrated.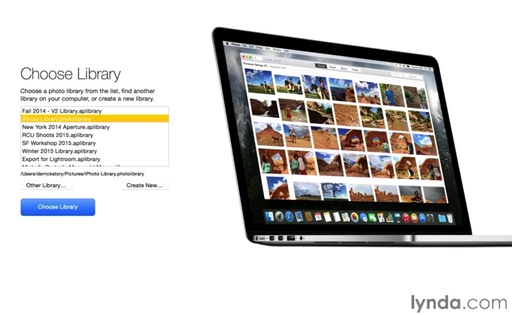 Of course all of this could change in future updates. But if you want to know the best procedure for migration now, and what you can and cannot do once go through the process, watch my lynda movie on the subject. I'll walk you through the migration steps.
---
Get Up and Running with Photos for OS X
Want to learn the ins and outs of Apple's latest photo management application? Then take a look at my latest online video training, Up and Running with Photos for OS X. Soon, both you, and your pictures, will be comfortable in their new home.
Previous Articles on Photos for OS X
How to Switch to RAW Files in Photos for OS X.
Converting an Aperture or iPhoto Library to Photos for OS X.
How to Open an Aperture or iPhoto Library in Photos for OS X.