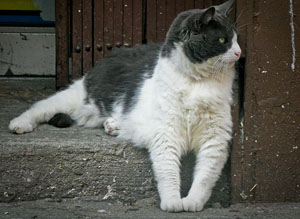 "I took my Canon G9 on a recent trip to New York, my first in fact," writes Michael Cortina. "Even though the weather had been horrendous, I got off the tour bus and did some exploring on foot. That's when I spotted this curious laid-back cat and captured his pose with the G9."
Michael's G9 was set to ISO 200, with a shutter speed of 1/200 at f-4.5.
Photo by Michael Cortina. Click on image to zoom to larger size.
If you have a candid you'd like to share, take a look at our Submissions page, then send us your Grab Shot. We'll try to get it published for you on The Digital Story.
And you can view more images from our virtual camera club in the Member Photo Gallery.
---
-
---
Technorati Tags: candid, digital photography, grab shot, The Digital Story