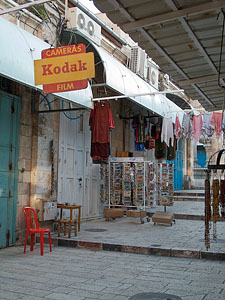 "Thought I'd submit this shot from Jerusalem's Old City," writes Roderick James. "The sign didn't look out of place in this old market, but seemed jarring in our digital world -- especially since I grabbed this image with my Canon G10."
Roderick set his G10 to ISO 80, 1/80th at f/3.2 for this trip down memory lane.
Photo by Roderick James. Click on image to zoom to larger size.
If you have a candid you'd like to share, take a look at our Submissions page, then send us your Grab Shot. We'll try to get it published for you on The Digital Story.
And you can view more images from our virtual camera club in the Member Photo Gallery.
---
-
---
Technorati Tags: candid, digital photography, grab shot, The Digital Story