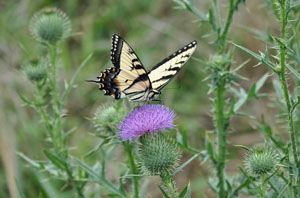 "I captured this guy at Pilot Mountain State Park North Carolina, while on a business trip," writes Randy Martin. "He was stopping there for some R&R too. However, his trip is a lot longer than mine as he's headed for Mexico."
Randy captured this great image with a Nikon D90, Nikon DX AF-S Nikkor 55-200mm 1:4-5.6 ED lens. ISO 200, f8, 1/200.
Photo by Randy Martin. Click on image to zoom to larger size.
If you have a candid you'd like to share, take a look at our Submissions page, then send us your Grab Shot. We'll try to get it published for you on The Digital Story.
And you can view more images from our virtual camera club in the Member Photo Gallery.
---
-
---
Technorati Tags: candid, digital photography, grab shot, The Digital Story