This is The Digital Story Podcast #612, Dec. 5, 2017. Today's theme is "So Much News, So Little Time." I'm Derrick Story.
Opening Monologue
There's been a flurry of announcements, updates, and releases lately. Who says there's nothing new and interesting in the world of photography? So this week I thought I'd share a handful of lightening talks to bring you up to speed. So buckle up and let's go.
So Much News, So Little Time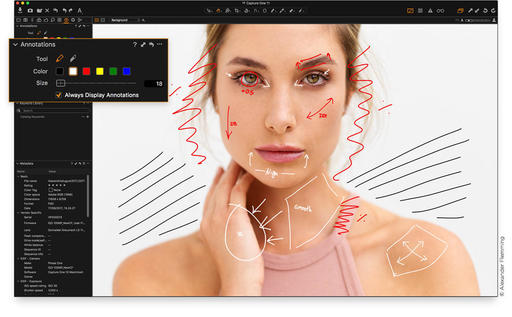 Capture One Pro 11 Released - With an updated processing engine, market-leading performance and powerful new features, Capture One 11 is the professional choice in imaging software. Headline new features: 1) Annotations - Annotate your images in Capture One by adding handwritten notes and drawings directly on your images. 2) Layered Workflow - All adjustment tools are now compatible with Layers, making Capture One a truly "layer centric" application. 3) Editing Speed - The overall performance of Capture One has been increased, which gives a smoother and faster experience when editing. This is especially helpful when fine-tuning adjustments. Upgrade is $119.
DxO ONE for Android Devices - Do you have an Android smartphone? Want to enjoy the DxO ONE's exceptional performance (1" sensor, 20MP, f/1.8, RAW)? Well, now you have two options: you can wait for the official launch of the Android-compatible DxO ONE a few months from now, or you can take part in our Early Access program starting today! For $499 your get the DxO ONE, outdoor shell (normally $59), and DxO PHotoLab (normally $199).
Pixelmator Pro for the Mac - The Pixelmator Team has packed a wide range of features and innovations into Pixelmator Pro, such as full RAW support, including support for multiple RAW layers; HEIF file format compatibility; superior support for Adobe Photoshop images; complete macOS integration via full support for iCloud, Versions, Tabs, Full Screen, Split View, Sharing, Wide Color, and others; Metal 2-powered painting tools and dual texture brushes; powerful retouching, reshaping, selecting, type, shape and vector tools; and a lot more. In addition, a number of free updates adding major new features to Pixelmator Pro are already lined up for the very near future. $59.99 in the Mac App Store.
Samsung's new W2018 flip phone features a variable aperture F1.5-F2.4 lens - Samsung just announced something that looks like it belongs in the mid-2000s... but looks can be deceiving. Meet Samsung's new flip phone: the W2018. Announced at an event in Xiamen, China, the followup to the W2017 is an Android-powered flip phone that boasts smartphone-caliber specs. In fact, the 12-megapixel rear camera is nearly identical to the one found in the Galaxy S8, featuring dual pixel autofocus, optical image stabilization and 1.4?m pixels. Price? Estimated to be near $3,000 US.
It does differ in one very interesting way though.
Not only does the W2018 boast an F1.5 aperture--the brightest you'll find on a phone--that aperture is actually variable, switching between F1.5 and F2.4 when it senses there's enough light around. In this way, the phone automatically captures as much of the background as possible.
Hasselblad launches its own online store, offers 5% off for a limited time - Iconic medium format manufacturer Hasselblad has opened its own online store, allowing users all over the world to skip the third-party vendors and local dealer and buy direct from the manufacturer itself. Following in the footsteps of Hasselblad's first brick-andmortar stores in Sweden, China, and Japan, the online 'Hasselblad Store' will be open to resident of the USA, China, UK, Germany and France.
Currently, the Hasselblad Store is selling both X1D and H6D cameras, as well as a limited number of lenses. Opening offers include 5% off some X1D kits and the body-only price, while H6D buyers can get a free hard case with their purchase. These discounts will last until December 7th.
Think Tank Announces the Airport Advantage Plus - Despite having a roller design, retractable metal handle and protection for your gear, the Airport Advantage Plus weighs in at only 6.9 pounds (3.1 kilograms) to help you keep your carry-on under weight restrictions. It also has a dedicated padded 17" laptop pocket. As far as gear capacity is concerned, the bag holds a gripped DSLR with an attached lens, an ungripped DSLR with an attached lens plus five to eight addditional lenses. Or it can hold a pair of gripped DSLRs with five to seven additional lenses. If you're a mirrorless camera user, Think Tank says it can hold two bodies "with a crazy amount of lenses." In terms of the largest lens you can fit inside the back, Think Tank states you can hold a detached 200-400mm lens with the lens hood reversed onto the barrel. Available now for $289.75.
What Do You Do with Your Prints?
Robin posted this question on our TDS Facebook Page: "Hey Derrick, you talk a lot about printing but you never say what you do with those prints. Do you mat them? Put them in glassine envelopes/some kind of archival storage or frame them? If I were to print my 2017 top 10, I'm thinking I would do 8x10s, mat them but not frame them because I don't have the wall or storage space." Here's my answer.
Videoblocks - Their Most Popular Winter Footage
One of the fun things that Videoblocks does is update their home page regularly with new goodies. Today, it was "Our Most Popular Winder Footage".
Click on it and you're treated to titles such as: Sunset View of Snowy Mountain, Tree Branches Covered in Snow, Serene Lake by Mountains, Winter Snow Coating Top of Trees, and so many more.
Plus, today's bonus clip is Lake Tahoe Winter Landscape. Why spend hundreds filming an epic flyover of Lake Tahoe when you can download this clip from the Member Library instead? We're happy to include this stunning shot with your membership! Of course I downloaded it for my library.
You just never know what's waiting for you when you log in to your Videoblocks account.
Over the next few weeks, I'll be your tour guide for this site. But if you need content right now, you can join Videoblocks for $149 a year and gain access to great video, stills, and audio content. This is really a great idea...
December Videos Posted for TDS Inner Circle Members
Our December Nimble Software Videos are: Localized Editing in Capture One Pro 10, and Magic Filtering in Photos for macOS High Sierra. Inner Circle Members just need to click on the Patreon tile that on all the pages of The Digital Story, and make sure they are logged in. Both training videos are available right there on the front page.
Rafael wrote: "Great video. Provides me with new ideas for an efficient workflow to manage my photos. Thanks." And Greg added: "Thank You Derrick. This was really valuable!!"
To become an Inner Circle Member, simple pledge $5 or more a month through the TDS Patreon program. Existing Inner Circle members are automatically enrolled in the Nimble Software Series.
We have more benefits coming in 2018 for our Inner Circle Members. Join today and become part of the TDS Elite.
Updates and Such
Big thanks to all of our Patreon members!
B&H and Amazon tiles on www.thedigitalstory. If you click on them first, you're helping to support this podcast. And speaking of supporting this show, and big thanks to our Patreon Inner Circle members.
And finally, new offer from our friends at Red River Paper.
Use promo code STORYSHIPIT to receive free ground shipping on all inkjet paper items. No minimum purchase required.
See you next week!
More Ways to Participate
Want to share photos and talk with other members in our virtual camera club? Check out our Flickr Public Group. And from those images, I choose the TDS Member Photo of the Day.
Podcast Sponsors
Videoblocks - Go to videoblocks.com/digitalstory to get all the stock video, audio, and images that you can imagine for just $149. Save on millions of studio-quality clips, tracks, and graphics.
Red River Paper - Keep up with the world of inkjet printing, and win free paper, by liking Red River Paper on Facebook.
The Nimbleosity Report
Do you want to keep up with the best content from The Digital Story and The Nimble Photographer? Sign up for The Nimbleosity Report, and receive highlights twice-a-month in a single page newsletter. Be a part of our community!
Want to Comment on this Post?
You can share your thoughts at the TDS Facebook page, where I'll post this story for discussion.