This is The Digital Story Podcast #630, April 10, 2018. Today's theme is "I Probably Could Have Done that Better." I'm Derrick Story.
Opening Monologue
Allen Saunders wrote in 1957, "Life is what happens while you are busy making other plans." John Lennon later used the quote in his song, "Beautiful Boy (Darling Boy)". And any photographer who has ever hit the road knows exactly how this feels. In this week's podcast, I share how even the best laid plans can go awry when life intervenes. I hope you enjoy the show.
I Probably Could Have Done that Better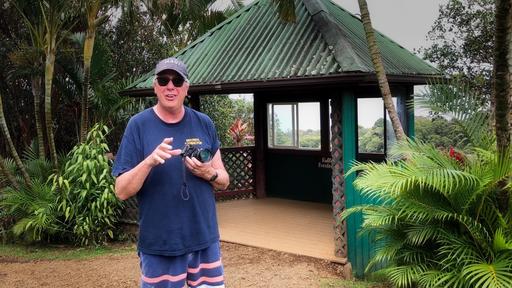 The first story involves the Leica D-LUX Type 109 that I traveled with over the last two weeks. It all started during happy hour at Fleetwood's on Front Street in Lahaina.
The next story happened during another happy hour at the Kaanapali Beach Club. We spotted two whales playing off the coastline.
The third story happened while exploring a waterfall and pool on the road to Hana. I wanted a long exposure for the water, but had forgotten my tripod.
Blackmagic Unveils a $1,295 Compact Camera That Shoots 4K RAW
DP Review reports that: Blackmagic has just announced its Pocket Cinema Camera 4K, a Micro Four Thirds compact camera that puts 4K RAW recording in your pocket for $1,295.
The camera is a long-awaited successor to the original Blackmagic Pocket Cinema Camera of 2013, which offered 1080p RAW in a tiny camera body.
Inside the Blackmagic Pocket Cinema Camera 4K is a 4/3 HDR sensor with 4096×2160 resolution and 13 stops of dynamic range. It has a dual native ISO of up to 25600.
"The full size of the 4/3 sensor is designed to perfectly match MFT lenses so the crop factor is greatly reduced, giving customers a wider field of view," Blackmagic says.
The Apple Photos Book for Photographers, 2nd Edition
The Apple Photos Book for Photographers, 2nd Ed is now available on Amazon. If you purchase the book, send me proof, and I'll send you a link to my movie, "How to Organize Like a Pro in Photos." This offer is good until April 15, 2018. Use the Contact Form on The Nimble Photographer site. Also, feel free to post a review on Amazon once you've read the book. They're helpful to potential buyers.
Digital Asset Management with Luminar - Nimble Classroom
Even though I have the class scheduled for April 21, I'm going to have to move it back until Skylum releases the gold copy of the DAM. If you've already signed up for the class, I will contact you directly about this. If you want to grab one of the few remaining seats, I would go ahead and do that as well. We will run the class as soon as the software is ready.
Do You Have a Film Camera that Needs a Good Home?
Over the last year, I've received donations from TDS members who have film cameras that need a good home. What I do is inspect the items, repair and clean as I can, then list them in TheFilmCameraShop where I can find a good home for them. If you're interested in donating, please use the Contact Form on TheNimblePhotographer site. And thanks for you consideration!
Dates Announced for the Burney Falls and Lassen Volcanic National Park Workshop
We have our cabin reservations secured for Sept. 27-29, 2018 for the Burney Falls and Lassen Volcanic National Park Workshop. Here's more about it.
I'm hoping to send out reservation forms later this week.
Aerial Photography Workshop Update
Public registration is now open for the Sonoma Country Hot Air Balloon and Drone Photography Workshop, June 8-10, 2018. We're combining two very fun aerial activities into one workshop. Be sure to get on the Reserve List for this one!
Come Join me at the Skylum Photography Public Group
I'm now moderating the Skylum Photography Public Group, and I would love to have interested members from our audience join me there.
Updates and Such
You can become a member of our Inner Circle by clicking on this link or by clicking on the Patreon tile that's on every page of The Digital Story.
B&H and Amazon tiles on www.thedigitalstory. If you click on them first, you're helping to support this podcast. And speaking of supporting this show, and big thanks to our Patreon Inner Circle members:
And finally, be sure to visit our friends at Red River Paper for all of your inkjet supply needs.
See you next week!
More Ways to Participate
Want to share photos and talk with other members in our virtual camera club? Check out our Flickr Public Group. And from those images, I choose the TDS Member Photo of the Day.
Podcast Sponsors
Red River Paper - Keep up with the world of inkjet printing, and win free paper, by liking Red River Paper on Facebook.
The Nimbleosity Report
Do you want to keep up with the best content from The Digital Story and The Nimble Photographer? Sign up for The Nimbleosity Report, and receive highlights twice-a-month in a single page newsletter. Be a part of our community!
Want to Comment on this Post?
You can share your thoughts at the TDS Facebook page, where I'll post this story for discussion.