The The Apple Photos Book for Photographers, 2nd Edition
is now available on Amazon for $27.56.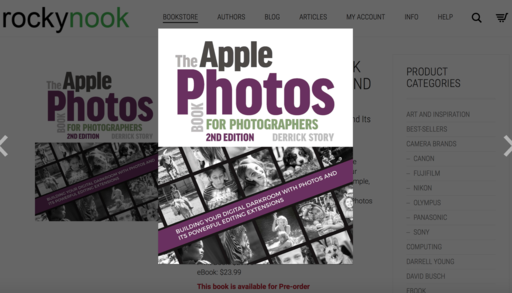 Apple's Photos for macOS High Sierra app was designed from the ground up to help you organize, edit, and share your pictures and videos. While the interface appears simple, finding the hidden nuances of Photos is not so straightforward. There's much more to this app than initially meets the eye.
For photographers who are more than just casual snapshooters, or who are making the transition from Aperture or iPhoto, The Apple Photos Book for Photographers, 2nd Edition shines a light on the true sophistication of this app and the ecosystem it taps into. From the point of view of a working photographer, Derrick provides everything you need to know to get the most out of the imaging tools built into this application.
Some of my favorite features covered in the book include:
Adding star ratings to your images and sorting them using the new Filters popup menu.
Roundtripping to Photoshop and other external apps using the new Edit With command.
Editing Live Photos captured with your iPhone and creating animated GIFs from them.
Tapping Photos' sophisticated search technology that makes it easier than ever to find your pictures.
Working with iCloud Photo Library to sync your photos across your devices (and automatically back them up as well).
Adding location data to your images so you can map your travels with your photos.
Editing your images with Photos' basic tools, and then going beyond with more advanced adjustments such as Selective Color and Curves.
Integrating third-party Editing Extensions into your workflow so you can build a digital darkroom tailored to your style of photography.
Creating projects such as books, cards, calendars, prints, and slideshows--and showing you how to create your own Fine Art Cards at home with just your Mac and an inkjet printer.
Working with videos as well as still photos.
If you work in the Apple ecosystem, and you haven't looked at Photos for a while, then the The Apple Photos Book for Photographers, 2nd Edition
Apple Photos Book for Photographers, 2md Edition is for you. And if you have been using Photos, I think you'll learn some new tricks.