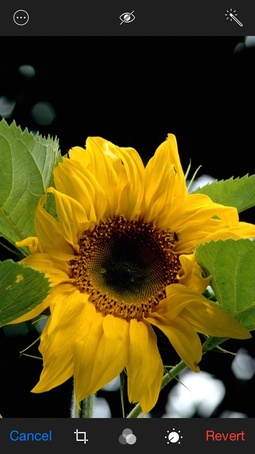 One of the exciting enhancements in iOS 8 for photographers is "Photo Extensions." What that means is that 3rd party developers, such as the creators of Camera+, can enable their editing tools to be accessed within Apple's Photos App.
Photo Extentions opens up a whole new experience for photographers. Here's how to use them.
Open an image in Photos App, then tap Edit in the upper right corner.

Tap on the "more" icon in the upper left corner of the app. It's a circle around 3 dots (as shown in the top illustration).

In the screen that appears at the bottom of the screen, tap on More, then enable the app that includes the Photo Extensions that you want to use. In my case, it was Camera+.

Camera+ will now reside in the bottom popup screen. Tap on its icon to access its editing tools.

Edit your photo using the tools in the set of extensions you've selected (as shown in the bottom photo). The changes you make to the image will be saved automatically to the camera roll.
Your edits are non-destructive. So regardless what you do with these new tools, you can always revert to original if needed.
This functionality is a preview of things to come on the Mac with the release of Yosemite. The new desktop Photos App will also have extensibility. It will be interesting to see how this changes desktop editing for Mac users.
---
More Help Managing Your Mobile Photos
In my lynda.com title, Managing Your Mobile Photos, I cover a variety of backup solutions for both iOS and Android users. These tutorials will help you build the perfect backup solution for you, so that you never lose a single memory.
Want to Comment on this Post?
You can share your thoughts at the TDS Facebook page, where I'll post this story for discussion.