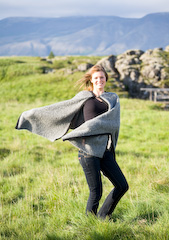 On Wednesday I was able to work with Maggie Hallahan, a commercial photographer based in San Francisco. She had made arrangements with Eskimo, an Iceland agency, to have five models come up to Nesbud for a shoot. Maggie had borrowed designer sweaters made here locally for the women to wear while we photographed them in the environment.
One of the things I enjoyed about this shoot was having photographers on hand to hold reflectors and assist with the models. We shot existing light only, using reflectors for fill light or shading as necessary. Because of the long days here, we started shooting at 4pm and didn't put away our cameras until 11pm.
I used the ExpoDisc to set my white balance in the changing light. That way I didn't have to worry about color correction in post processing, which is a big deal when working such long hours.
The shoot went well, and I ended up with over 400 images. That's a lot of data when you're talking about 12 megapixel Raw files.
Technorati Tags: digital photography, Iceland, Lightroom Adventure