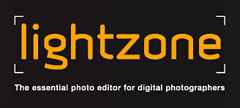 Back in January I posted a short article about Lightzone. I was introduced to this image editor/photo manager at Macworld, and it seemed to be attracting a lot of attention. At the time, the price was $249.
Lots of news on this front since then. LightZone now runs on both Windows and Mac OS X. The new Universal Binary version is compatible with both PowerPC- and Intel-based Mac computers. Version 1.3 is available to all current owners of LightZone as a free software update. The company claims it provides increased performance and camera compatibility. Plus, they've also reduced the price to $149.95.
Seems like high-end photo managers are coming back to earth. With Apple's recent announcement of Aperture 1.1 with better performance and a new price tag of $299 (down from $499), and now Lightzone's reduction to $149.95, I'm curious to see what price Adobe is going to announce for its new product, Lightroom, later this year.
Technorati Tags: digital photography, image