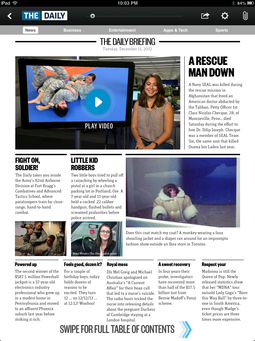 I've had the iPad mini since day 1 of its release. And how I'm using it is much different than I would have anticipated. Here are 5 personal iPad mini myths that have been debunked over time.
---
I loved reading The Daily on the iPad mini, and I'm going to dearly miss that publication.
---
Myth 1 - I'll use the camera more: I thought because the iPad mini was smaller that I would be more prone to using its built-in camera. Nope. I still reach for my iPhone 4S for mobile photography. I can send the image to the iPad in a matter of seconds using PhotoSync. The iPhone is a better image capture device. The iPad is a superior viewing device.
Myth 2 - I won't use it as a mobile portfolio because it doesn't have a Retina display: Wrong again. Even though I much prefer the Retina display on my iPad 3, my photos still look terrific on the mini. I use it all the time as a mobile portfolio. And it's much lighter to carry around and hand to a client.
Myth 3 - I'll use the mini for image editing just like I do my iPad 3: Wrongo in the Congo. I'm much more comfortable using Snapseed, iPhoto for iOS, and Photogene on the full size iPad. I will use the mini in a pinch. But I much prefer the iPad 3 for image editing. In an odd sort of way, the iPad 3 had become more of a computer to me since having the mini.
Myth 4 - I'll still use the iPad 3 for periodical and magazine reading: Sorry, but that hasn't panned out at all. I love reading the San Francisco Chronicle, USA Today and other periodicals on the mini. And I'm really going to miss The Daily (shown above), which I have been a subscriber to since its launch. The mini is far more comfortable to hold for reading than a full-sized iPad. And as a result, I'm reading more than ever on an iPad. I would go so far as to predict that the mini is really going to help us make the transition to digital periodicals.
Myth 5 - The mini will never become my favorite iPad: Hmmm, the jury is still out on this one. No way I would ever want to give up the beautiful iPad 3. But around the house, 3 times out of 4, I'm picking up the mini. And that surprises me the most.
---