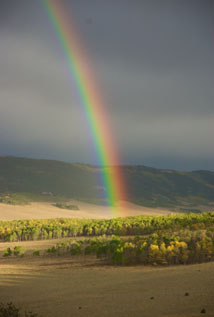 "There's a lot to be said for being in the right place at the right time and having your camera with you," writes Mark Castleman." I saw this striking rainbow in the South Park of Colorado, about 10 miles east of Fairplay. I took it with my K10D and a Sigma 17-70mm lens at ISO 100, 1/350 at f/5.6. Yes, it really was that bright; I'm not that good with Photoshop."
Photo by Mark Castleman. Click on image to zoom to larger size.
If you have a candid you'd like to share, take a look at our Submissions page, then send us your Grab Shot. We'll try to get it published for you on The Digital Story.
And you can view more images from our virtual camera club in the Member Photo Gallery.
---
-
---
Technorati Tags: candid, digital photography, grab shot, The Digital Story