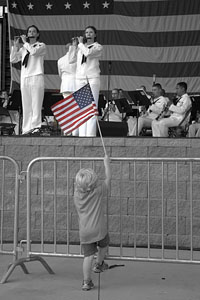 "This shot was taken at a local balloon festival," writes Jim Garrett, "an Air Force band was playing and this toddler just came up to the edge of the stage."
Jim captured this flag waving shot with a Pentax K100D with the kit 18-55mm lens -- F5.6, 1/90 sec., ISO 200. He then edited in Picasa using "Focal B&W" tool.
Photo by Jim Garrett. Click on image to zoom to larger size.
If you have a candid you'd like to share, take a look at our Submissions page, then send us your Grab Shot. We'll try to get it published for you on The Digital Story.
And you can view more images from our virtual camera club in the Member Photo Gallery.
---
-
---
Technorati Tags: candid, digital photography, grab shot, The Digital Story