This is The Digital Story Podcast #549, Sept 13, 2016. Today's theme is "iPhone 7 and the Age of Smartphones." I'm Derrick Story.
Opening Monologue
No doubt that initially the rise in smartphone photography was due to convenience. Having a camera integrated into a connected device made it easy to send and share pictures, especially when practically every person we know is online. But we've gone way beyond simple convenience into truly capable cameras. And with no end in sight. I talk about the iPhone 7 specifically, and smartphone photography in general on today's show.
iPhone 7 and the Age of Smartphones
I think the best way to start this conversation to cover what Apple announced with the iPhone 7. I'm sure that many of you are familiar with the basic specs. But they're worth repeating.
12MP backside illumination sensor with f/1.8 aperture
Optical image stabilization
Six element lens
Quad-LED True Tone flash
Sapphire crystal lens cover
Hybrid IR filter
Live Photos with stabilization
Improved local tone mapping
Auto HDR for photos
Photo and video geotagging
4K video recording at 30 fps
1080p HD video recording at 30 fps or 60 fps
Slo-mo video support for 1080p at 120 fps and 720p at 240 fps
Timelapse video with stabilization
Cinematic video stabilization (1080p and 720p)
Take 8-megapixel still photos while recording 4K video
Clearly, these are impressive specs. And we're seeing this kind of technology in the other brands too, which are also designing fantastic image capture devices. And this got me thinking about the role of my iPhone with the pictures I shoot. Being in Maui on vacation for the past week, I'm the perfect demographic for this device.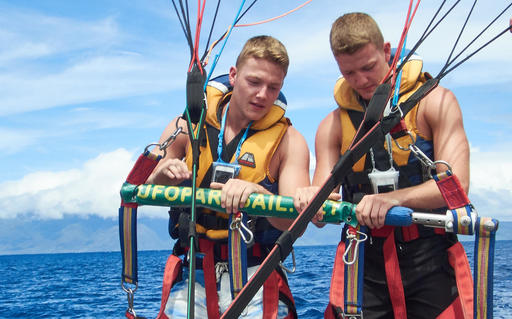 How I'm using the iPhone. There are three of us here using our iPhones for photography. One 5S, 6, and 6S. The boys use the iPhones for everything. We purchased waterproof lanyards (very popular here in Maui), and they've shot with their phones up in the air while parasailing and underwater while snorkeling. It's their singular go-to imaging device.
Me, on the other hand, shoot some with the iPhone, but use it mainly as a conduit between the Olympus TG-4 and my Photos library. I like shooing with the TG-4 better because it affords me more options, plus it's waterproof. But it talks to the phone easily, and my images still end up there thanks to WiFi.
The bottom line is this: the smartphones are so versatile that you can customize their use to the workflow that suits you best. The boys see it as an all in one. I like it as a link the chain. But at any moment, we could change our approach and be just fine.
In the News
Instagram is working on iPhone 7-specific features (DP Review) - In one of the next versions of the app, the zoom of the iPhone 7 Plus dual-camera will be controllable from the Instagram camera. In addition, the new taptic engine will indicate how much the photographer has zoomed into the scene in both video and stills mode. Instagram says it is also looking at adapting its image filters to the iPhone 7 display's wider color gamut, which lets viewers see a wider range of color.
For all iPhones, there will also be a function to convert Live Photos into Instagram Boomerang GIFs, which repeatedly play back and forth. This function will be based on the new Live Photo API in iOS 10. The new Instagram version is expected to launch sometime after shipping of the new iPhone models has started on September 16.
Nimble Photographer Workshop, Portland, Nov. 5
The Nimble Photographer is on the road again, this time making a stop in Portland, Oregon for a 1-day Nimble Photographer Workshop. We're setting up camp at the Pro Photo Supply Event Center on Saturday, November 5, 2016.
Highlights over the course of the day include my sharing the techniques that I've developed during years of nimble photography, participant "What's in Your Bag" sessions, street shooting and portrait tips, hands-on session, post production discussion, gear review, photo sharing, and more. We're even including lunch. You can register here.
Drobo Diaries
I've begun working with a Drobo 5Dt five bay storage device that can manage up to 64TB with Thunderbolt 2 or USB 3.0 connectivity.
The first step was setting up the device and installing the five hard drives: 6TB, 6TB, 2TB, 2TB, 2TB. Make sure you hear a click when you install the drives to confirm they are seated properly.
Next, install the Drobo Dashboard software and fire it up. It will find the connected Drobo and ask if you want it formatted. I set mine up as a Mac drive so I can use it for Time Machine, Photos libraries, and Capture One catalogs.
Once that process completed, I used Hedge for Mac to copy all of my Capture One catalogs from the 5D to the 5Dt. I wanted to do this anyway, and I thought they would be a good test.
The copy went smoothly, and Hedge verified all of the files so I know that there were no gaps in my copy job. The next step for this week will be to copy all of my legacy Aperture and iPhoto libraries. I'll report on that during the next show.
Updates and Such
B&H and Amazon tiles on www.thedigitalstory. If you click on them first, you're helping to support this podcast. And speaking of supporting this show, and big thanks to our Patreon Inner Circle members.
And finally, be sure to visit our friends at Red River Paper for all of your inkjet supply needs.
See you next week!
More Ways to Participate
Want to share photos and talk with other members in our virtual camera club? Check out our Flickr Public Group. And from those images, I choose the TDS Member Photo of the Day.
Podcast Sponsors
Red River Paper - Keep up with the world of inkjet printing, and win free paper, by liking Red River Paper on Facebook.
MacPaw Creators of CleanMyMac 3 and other great software for Apple computers. Visit www.macpaw.com today.
Hedge for Mac - The fast solution for moving photos and videos from memory cards to drives, or drives to drives for that matter. Learn more at Hedge for Mac.
The Nimbleosity Report
Do you want to keep up with the best content from The Digital Story and The Nimble Photographer? Sign up for The Nimbleosity Report, and receive highlights twice-a-month in a single page newsletter. Be a part of our community!
Want to Comment on this Post?
You can share your thoughts at the TDS Facebook page, where I'll post this story for discussion.