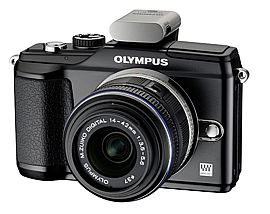 Macworld Magazine has published my review of the Olympus E-PL2 micro four thirds camera. I've talked about this compact interchangeable lens device before, but the full review covers everything from important features, accessories, and image quality; to using the camera with an HDTV and pairing the PENpal Bluetooth accessory with a Mac. We cover a lot ground!
The pros and cons list in the review shape up like this:
Pros
Ergonomically comfortable body with textured hand grip, recessed on/off button, mode dial, and control wheel
Improved 14-42mm f/3.5-5.6 Zuiko MSC zoom kit lens
In-body image stabilization
Manual exposure and art filters in movie controls
Accessory Port 2 for expanded functionality
Built-in wireless flash control
Cons
No built-in external mic jack--must buy accessory port adapter
Complex menu system
Limited to AVI movie format (Motion JPEG OpenDML)
Overall, I think this is an excellent camera for the photographer who wants a compact, lightweight design, but still retains plenty of control and a variety lens options. The Olympus PEN E-PL2 camera kit
is available for $599 US.
---