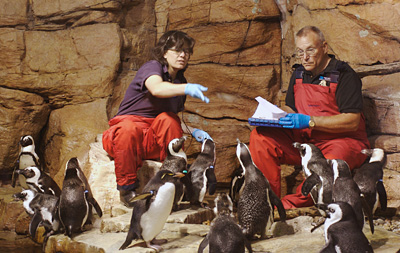 Lots of great stuff goes on behind glass. I've talked about shooting scenics through hotel windows, but museums and aquariums are also great windows of opportunity. However, lighting in these facilities can make the challenge a bit more daunting.
This shot of penguins during feeding hour in an aquarium was captured through thick glass. (She's actually throwing a fish. You can see it in mid air if you look closely.) Here are the steps:
Turn off the flash.
Increase your ISO to 400 or 800.
Set your lens to wide angle or mount your favorite wide angle lens.
Use a lens hood if you have one.
Put the lens hood directly on the glass to eliminate reflections.
You can cup your hand around the lens barrel if you don't have a lens hood.
Hold the camera steady and take the shot.
The specs for this penguin shot are: Canon Rebel XT (350) in RAW mode, 17-40mm lens, f-4 @ 1/30th of a second, ISO 400 with white balance set to auto.
If you have the urge to go shoot something interesting, but can't think of a good subject, consider a trip to your local museum or aquarium. You're bound to find something interesting happening behind glass.
Technorati Tags: digital photography, technique, tips